21.01.2023
15 Jahre Plattenkonferenz w/ JakoJako, Chris Zeitlmeier, DJ CreDes, P-T2 & VJ Proximal
15 Years Plattenkonferenz w/ JakoJako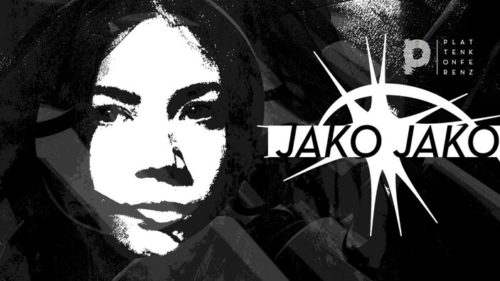 Harry Klein
Timetable (Music)
Timetable (Visuals)
Proximal (Harry Klein / Capsolé | Munich | she/her)
15 years young PK | Plattenkonferenz is in its best teenage days. Following Robert Hoods Techno anthem 'Never Grow Old', we are fresh – exciting back at Harry Klein.
Künstler*innen
JakoJako
Sibel J. Koçer aka JakoJako is more than a Live/DJ performing artist. Based on the use of extensive modular synthesis, she designs electronic landscapes playing tools as instruments diverse & innovative, any given time. Though, there is some unique style of sound within, which makes her music so distinctive. This also counts for her releases on Leisure System, Mute or together w/ Rødhåd on WSNWG, as well as for her resident gigs at Berghain.
Chris Zeitlmeier
Chris is founder & driving force of PK | Plattenkonferenz since the very beginning. Together w/ DJ CreDes he developed PK as sustainable platform for electronic music in Germany. This goes Hand-in-Hand w/ Chris dedication to play music or create clubnight spaces at homebases like Harry Klein Club & MMA | Mixed-Munich-Arts.
DJ CreDes
Focusing on the core of being a DJ since decades, CreDes reflects a deep understanding of Techno. Together w/ Chris Zeitlmeier he developed PK | Plattenkonferenz as sustainable platform for electronic music in Germany. Challenging the status quo, hours for hours in countless clubs dj boothes, at homebases like Harry Klein Club & MMA | Mixed-Munich-Arts.
P-T2
WUT, Queer, Feminist, Acid, Techno, this and so much more is P-T2. Well-known as long-term resident of Rote Sonne, she established herself as some fixpoint in the scene, now playing more often at Harry Klein Club. Furthermore she's not getting tired of playing as MISSTRE55 or some interstellar Cosmic Suprise Union.
Proximal
Marlene Neumann alias VJ Proximal is one of this great restless artists Munich nightlife can stand for. Via her visuals she shows an emotional power, authentic & w/o a point of reference leaving the interpretation to the audience. A visionary perpetual motion machine, giving light where its dark & beams when shadows are needed.
NO SPACE FOR SEXISM, RACISM, HOMOPHOBIA, TRANSPHOBIA & VIOLENCE! HARRY KLEIN IS A SAFER SPACE FOR EVERYONE, PLEASE RESPECT THAT!
Awareness im Club bedeutet für uns:
Sei offen gegenüber deinen Mitmenschen.
Helfe, wenn dich jemand danach fragt.
Versuche dein Gegenüber zu verstehen.
Melde dich bei uns, wenn du dich unwohl fühlst.
Behandle deine Mitmenschen mit Respekt.
Frag nach, wenn etwas unklar ist.
Vertrauen ist die Basis für unser Miteinander.
Vermeide Worte, die du selbst nicht hören magst.
Einlassrecht vorbehalten.
21.01.2023 - Beginn 22:00

Ende: 22.01.2023 07:00

Kosten: € 10.00 VVK | € 13.00 Abendkasse

Adresse
Harry Klein
Sonnenstraße 8
80331 München
Deutschland