18.07.2020
Das Kollektive Wochenende Livestream | Tag 2
BONNIE'S KLEID • AREL & SCHAEFER • LEONIE • DAVE MARSHALL • HUTENBERGER • KOVI • NATANAEL MEGERSA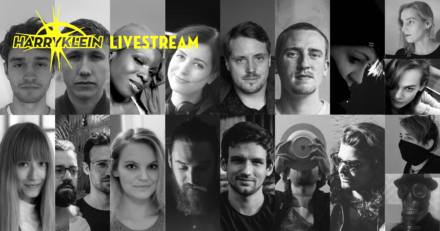 BONNIE'S KLEID
LEONIE
DAVE MARSHALL
***
Liebe Freund*innen, dear friends,
Ein besonderes Wochenede steht uns bevor. Freitag und Samstag ist unser Livestream vollgepackt mit dem Feinsten, das unsere Münchner Kollektive zu bieten haben!
Freitag geht es rund mit WUT, Schabernack, Electronic Monster, und Techno ist Familiensache!
Samstag dann mit NEUZEIT, NachtEin.TagAus, Rant&Rave (R&R) und Unmuted!
Künstler*innen des Livestreams / artists of the livestream:
Bonnie's Kleid (music) [Neuzeit]
arel & schaefer (music) [NachtEin.TagAus]
Leonie (music) [Rant&Rave]
Dave Marshall (music) [NachtEin.TagAus]
Hutenberger (music) [Neuzeit]
Kovi (music) [Unmuted]
Natanael Megersa (music) [Garry Klein | Harry Klein]
Livestream Unterstützung/Support findet ihr auf unserer Website
oder unter https://www.facebook.com/pg/harrykleinclub/shop/
Ein großer Dank geht an:
Special thanks to:
Female:Pressure, Wien
WUT Kollektiv, München
In München
Münchenhältzamm
Ferdinand Olszewsky (info @ streamedia . tv)
Pixolux
Magic-Medientechnik.de
& the artists* who support us unprecedentedly in this matter.
Tune in and stay healthy
PS: video content
https://www.facebook.com/pg/harrykleinclub/videos/
youtube.com/channel/UClvs0tjkJXaGwWhrqM1HFVA
18.07.2020 - Beginn 21:00

Ende: 19.07.2020 06:00

eintritt frei

Adresse
YouTube & Facebook & Twitch