11.11.2022
Clubnight w/ Damon Jee, Lily Lillemor, Mellowflex & TPS Nostromo
Clubnight w/ Damon Jee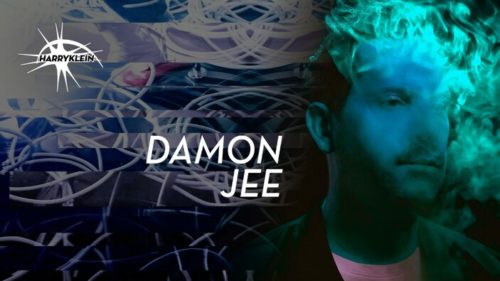 Harry Klein
Timetable (Music)
22.00 Uhr

Lily Lillemor (Harry Klein | Munich| she/her| Dark Disco)

01.30

Uhr

Damon Jee (Correspondant | Dust & Blood | Biarritz | he/him | Dark Disco)

04.30

Uhr

Mellowflex (Harry Klein | Munich | they/them | Melodic House & Techno)
Timetable (Visuals)
22.00 Uhr TPS Nostromo (Harry Klein Visuals | Munich | they/them)
Künstler*innen
Damon Jee
There is no substitute for experience, and we are all the product of our influences.
Damon Jee is the embodiment of that statement. Over the last 20 years, he has carved a career in a very unassuming way, unintentionally writing an exciting new chapter for the global electronic music scene. He is the journeyman who managed to shine brighter by staying true to himself, a musical alchemist experimenting with different sounds to create a deadly new potion. Today, the producer is considered the leading exponent of a fresh and an exciting new scene many are calling Dark Disco.
Lily Lillemor
Let the dance floor shake! Lily captivates her audience so that they can lose themselves in driving beats. Her fine feeling for the interaction of melodies and rhythms manages to stick the crowd on the dancefloor.
Since 2018 she has been mixing Dark Disco, Deep House, Synth Wave and EBM. She is technically adept and challenges her audience with surprising turns in the set to a personal development. Each set is a little educational holiday on the dance floor.
Mellowflex
With a perfectly balanced harmony consisting of a soft melodic breeze with pulsating beats, Mellowflex show the world that house and techno music are at the same time vastly diverse and melodic.
Clear rhythmic elements form the foundation of their music, whilst organic sounds pull you right into the depth of their sounds. This diversity makes it able to interpret the melodies they play in many ways.
This Munich based DJ duo is happy to call the famous Harry Klein Club their home. Besides their residency here they are responsible for scouting young and fresh talent to kill it on the decks. As part of this initiative they act as a curator for the 'Münchner Kindl' events, which took place once a month.
TPS Nostromo
NO SPACE FOR SEXSIM, RACISM, HOMOPHOBIA, TRANSPHOBIA & VIOLENCE! HARRY KLEIN IS A SAFER SPACE FOR EVERYONE, PLEASE RESPECT THAT!
Awareness im Club bedeutet für uns:
Sei offen gegenüber deinen Mitmenschen.
Helfe, wenn dich jemand danach fragt.
Versuche dein Gegenüber zu verstehen.
Melde dich bei uns, wenn du dich unwohl fühlst.
Behandle deine Mitmenschen mit Respekt.
Frag nach, wenn etwas unklar ist.
Vertrauen ist die Basis für unser Miteinander.
Vermeide Worte, die du selbst nicht hören magst.
Einlassrecht vorbehalten.
11.11.2022 - Beginn 22:00

Ende: 12.11.2022 07:00

Kosten: € 10.00 VVK | € 12.00 Abendkasse

Adresse
Harry Klein
Sonnenstraße 8
80331 München
Deutschland