18.11.2022
Electronic Monster w/ Juliet Fox, Alicea, Natanael Megersa, Schott, Sicovaja & RMO
Electronic Monster w/ Juliet Fox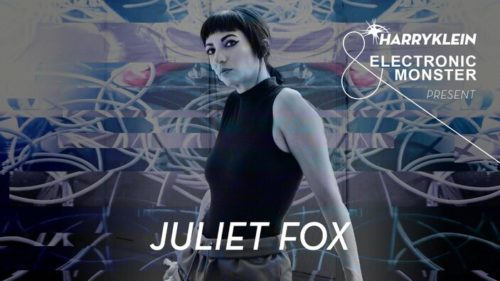 Harry Klein
Timetable (Music)
Timetable (Visuals)
Künstler*innen
Juliet Fox
A penchant for driving, mesmeric techno has driven Juliet Fox's evolution in recent years. Releases on such prominent labels as Drumcode, Filth On Acid and Kraftek have firmly cemented her position within the techno world – all of which succeeded in bolstering her global profile to almost 8 million Spotify streams. Her productions have found their own identity with each featuring Juliet's unique and trippy vocals wrapped into her ever experimental hooks and basslines. These tracks have become synonymous all over the globe and have created pivotal moments in many DJ performances at some of the most infamous events worldwide.
Alicea
Alicea ist nicht nur Münchens erste Bookerin und seit Juli ein fester Bestandteil der Harry Klein Familie, sondern auch als DJ mit vollem Herzen dabei. Von groovy Techno über House und melodischem Dub Techno bis hin zu düsterem, hypnotischen Techno hat sie ein großes Spektrum an Genres, die sie zu ihrer eigenen Klangwelt kombiniert, wobei sie stets auf Groove und Dynamik setzt. Jedes Mal ein bißchen anders, und doch mit ihrem einzigartigen, erkennbaren Sound!
Natanael Megersa
Schott
Sicovaja
RMO
NO SPACE FOR SEXSIM, RACISM, HOMOPHOBIA, TRANSPHOBIA & VIOLENCE! HARRY KLEIN IS A SAFER SPACE FOR EVERYONE, PLEASE RESPECT THAT!
Awareness im Club bedeutet für uns:
Sei offen gegenüber deinen Mitmenschen.
Helfe, wenn dich jemand danach fragt.
Versuche dein Gegenüber zu verstehen.
Melde dich bei uns, wenn du dich unwohl fühlst.
Behandle deine Mitmenschen mit Respekt.
Frag nach, wenn etwas unklar ist.
Vertrauen ist die Basis für unser Miteinander.
Vermeide Worte, die du selbst nicht hören magst.
Einlassrecht vorbehalten.
18.11.2022 - Beginn 22:00

Ende: 19.11.2022 07:00

Kosten: € 10.00 VVK | € 13.00 Abendkasse

Adresse
Harry Klein
Sonnenstraße 8
80331 München
Deutschland