30.11.2022
Garry Klein w/ Alicea, Eryhc, Lazykid, Louis EMP, Bavarian Mr. Leather, Tiffy Tölle, Kamilla Spiller & VJ Structure
Garry Klein Red Ribbon Night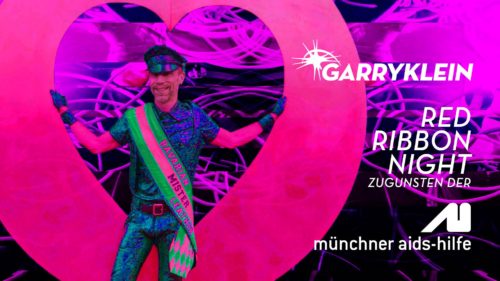 Garry Klein
Timetable Music
Timetable Show
00.25 Uhr Shout Out: Tiffy Tölle & Bavarian Mr. Leather

00.30

Uhr

Kamila Spiller (Queen of the night 2022 | she/her)
Timetable Visuals
22.00 Uhr Structure (Harry Klein Visuals | he/him)
Let us be queer, open minded, visible, peaceful and keep the gender equality. Garry Klein, the safer space for queer people in Munich.
Our high quality electronic music djs will satisfy your heart and soul. Feel the bass, dive into the live visuals and never miss the best drag queen or king midnight showtime.
At the Sépareé floor, you will dance to the hottest pop music.
Jedes Jahr um den 1. Dezember feiern wir die Red Ribbon Night. HIV/Aids ist immer noch präsent und deshalb unterstützen wir mit Deiner Hilfe die Münchner Aidshilfe. Die Hälfte der Eintrittsgelder werden deshalb an die Münchner Aidshilfe gespendet. Natürlich werden wir Dir die Gelegenheit geben, noch mehr zu spenden, z.B. durch den Kauf der Teddybären. Und damit es ein besonderer Abend wird, haben wir gleich vier DJs eingeladen, die sich ebenfalls beteiligen. Und wir haben Tiffy Tölle und den Bavarian Mr. Leather eingeladen, die sich mit einem kurzen Aufruf an die Gäste wenden werden. Bring all Deine Freunde mit, sodass wir einen möglichst hohen Spendenbetrag zusammen bekommen.
Du hast zudem die Möglichkeit ein oder mehrere Spendentickets zu kaufen, die wir dann zu 100% an die Aidshilfe weitergeben. Wir danken Ticket.io, die hierfür auf die Systemgebühren verzichten.
Künstler*innen
Alicea
Eryhc
Lazykid
Louis EMP
Bavarian Mr. Leather
Kamilla Spiller
Structure
NO SPACE FOR SEXSIM, RACISM, HOMOPHOBIA, TRANSPHOBIA & VIOLENCE! HARRY KLEIN IS A SAFER SPACE FOR EVERYONE, PLEASE RESPECT THAT!
Awareness im Club bedeutet für uns:
Sei offen gegenüber deinen Mitmenschen.
Helfe, wenn dich jemand danach fragt.
Versuche dein Gegenüber zu verstehen.
Melde dich bei uns, wenn du dich unwohl fühlst.
Behandle deine Mitmenschen mit Respekt.
Frag nach, wenn etwas unklar ist.
Vertrauen ist die Basis für unser Miteinander.
Vermeide Worte, die du selbst nicht hören magst.
Einlassrecht vorbehalten.
30.11.2022 - Beginn 22:00

Ende: 01.12.2022 05:00

Kosten: € 6.00 vor 23:30 | danach € 9.00

Adresse
Harry Klein
Sonnenstraße 8
80331 München
Deutschland