09.09.2023
#queeresonne
Holey | Rote Sonne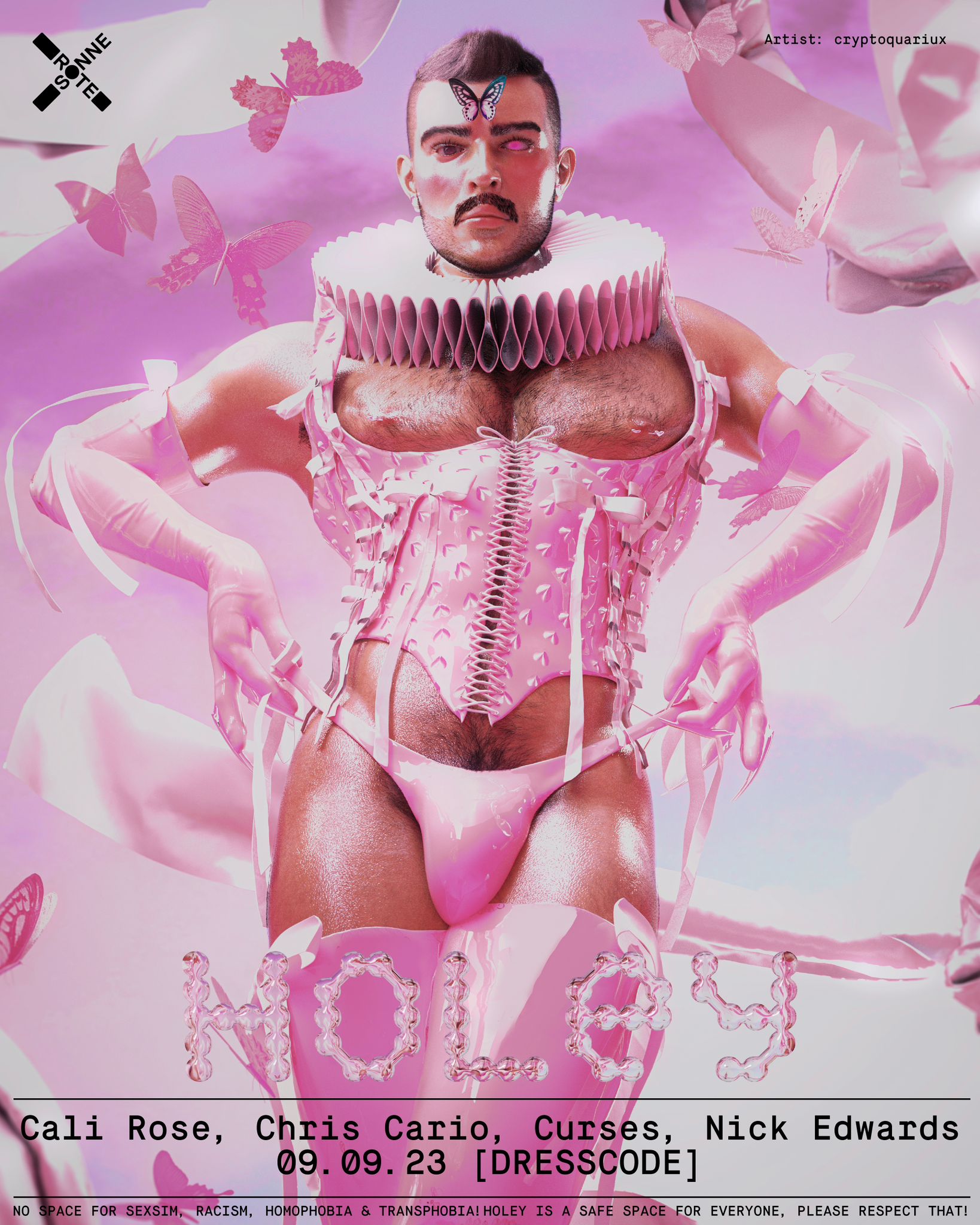 HOLEY
9.9.2023, 23:00
NO PRE-SALE
LINE UP:
Cali Rose
Chris Cario
Curses
Edwards
In Zeiten, in denen ganze Staaten in historischen Backflips daran arbeiten, Queerness unlebbar zu machen, ist es umso wichtiger, queeres Leben laut und unüberhörbar auf die Tagesordnung zu setzen. HOLEY will ihren Beitrag dazu leisten. Im Herzen Münchens, zwei Steinwürfe (sic!) von der Herzkammer der christsozialen (lol!) Agenda entfernt soll sich ein Raum entfalten für queeren Sound, queere Kunst, queere Performance jeder Couleur.
Welchem Buchstaben der Community mensch sich auch zuordnet, oder vielleicht auch den richtigen für sich noch nicht gefunden hat – HOLEY will einen Raum bieten für Exzess wie Erfahrungen, für Entfaltung wie für Experimente. Always safe, not necessarily always sane. Unser Sound ist queer, unsere Kunst ist queer, unser Anspruch ist queer. And we want you to be queer with us.
DRESSCODE
In order to create the perfect atmosphere at our event, we kindly ask you to follow the dresscode: Sporty, Naked, Lingerie, Lacquer & Leather, Latex, Cross-Dressing, Costumes – kinky outfits of any kind are welcome.
Streetwear and casual clothes are not accepted
SELECTION
Please respect the decision of our Selection.
We do our best to provide a safe and free space
DARKROOM
There will be a darkroom at the party. The
top priority is consent at any time. No means no.
NO PHOTOS & VIDEOS
We have a strict no photo police.
Cameras are taped off at the entrance.
09.09.2023 - Beginn 23:00

Ende: 10.09.2023 08:00

Kosten: € 18

Adresse
Rote Sonne
Maximilianspl. 5
80333 München
Deutschland