22.05.2021
Synthvision Livestream
JANINA • HOLLY HUNT • HAUSHERR • CALI MÉRO • AUTOPILOT • PROXIMAL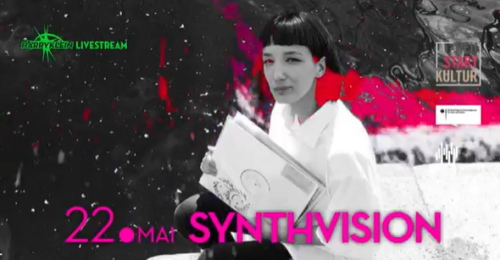 Livestream aus dem Harry Klein:
20:00 Uhr HAUSHERR

21:00 Uhr Janina

22.30 Uhr Holly Hunt

23.30 Uhr CaLi MéRo

VJ Autopilot & Proximal
With a livestream, you're always dancing in the front row!
Janina is a tireless DJ through and through. She noticed her enthusiasm for electronic music early on and worked hard to make her vocation her profession. Her home in Berlin was the perfect environment to keep developing her natural talent. Resident at Club der Visionäre, her own show at Tresor and a lot of international top clubs. Yes, Janina is truly a gifted artist. Her latest project is to start her own label. We are excited!  And of course we are looking forward to Janina in the livestream at Harry Klein!
The musical tour guides of the Synthvision collective "HAUSHERR", "Holly Hunt" and "CaLi MéRo" are waiting with a variation of different techno styles. From hypnotic, club-oriented sounds to varied, magical melodies and fast, machine-like beats, there is something for every ear. And to bridge the current challenging times, the collective provides its listeners with podcasts on Soundcloud and livestreams on Instagram – and soon on YouTube and Facebook.
Autopilot is a VJ of the first hour with numerous engagements and releases. With his distinctive visual style between electro-psychedelic-punk and pop, he makes the dancefloor pulsate in a new light.  With his current club UV installations, e.g. at Harry Klein, he is once again breaking new ground between urban art and avant-garde.
VJ Proximal knows how to impress again and again with her wonderfully morbid style.
Special thanks to:
– Förderprogramm der Bundesregierung "Neustart Kultur"
verwaltet von GEMA & Initiative Musik
– In München
– Raving FM
– Radio Spurensuche
– #Münchenhältzamm
& ein Dank an alle Seiten, die diesen Stream übertragen.
Technik & Aufnahme: Pixolux
Produktion: Harry Klein GmbH
Regie: das gesamte Team
Artwork by Sicovaja
Du findest unseren Livestream zusätzlich bei YouTube & Mixcloud.
Verlierst du die Verbindung zu dem Livestream, check einfach: https://www.facebook.com/harrykleinclub/live/
Unsere komplette Library findest du unter: https://www.facebook.com/harrykleinclub/videos/
Schalte ein, bleib gesund und viel Spaß!
PS. der Livestream ist kostenlos. Natürlich haben wir dir die Möglichkeit geschaffen uns zu unterstützen:
https://shop.harrykleinclub.de/collect…/livestream-support
22.05.2021 - Beginn 20:00

Ende: 23.05.2021 00:30

eintritt frei

Adresse
YouTube & Facebook