17.06.2022
Marry Klein Clubfestival w/ Jamiie, DOGHEADSURIGER, Wanda Wild, Lux und TPS Nostromo
Marry Klein Clubnight w/Jamiie & DOGHEADSURIGER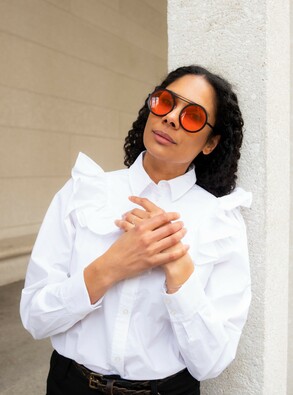 Playlist
Music Marry Klein Clubfestival 2022
Visuals
Marry Klein Clubfestival 2022
Künstler*innen
Jamiie
JAMIIE is an international DJ and producer based in Berlin. She sees herself as a selector
who loves to bring music to the people, using it as a cross-cultural language.
JAMIIE's musical taste and choice of sound is influenced by her African roots, closely
intertwined with her early experiences with Techno and electronic music when she
discovered "The Steve Mason Experience" on BFBS radio.
Her sophisticated and beautifully crafted dj sets are defined by vast electronic sounds.
The emotionally charged atmosphere, alternating deep, melodic and synthesizer-kissed
cheerfulness and inexhaustible presence behind the decks electrifies the crowd in no
components are in a constant synergy with uplifting and tribal elements colored by a
rhythmic, percussive and spiritual energy. When playing, her infectious smile,
time, enflaming dancefloors worldwide.
The groove and power of her eclectic sets, her Watergate residency and part in the RISE
collective made her an internationally demanded artist, having her played on renowned
festivals and clubs across Europe, Africa, South America and the Ukraine.
JAMIIE continues her musical journey as she embarks into the orb of production with
first releases on Watergate Records, Studio Kreuzberg, Cacao Records and Harabe
Recordings.
DOGHEADSURIGERI
Polish DJ currently based in between London and The Hague. Since 2018 she's been a member of Oramics, an initiative that supports the participation of women, non-binary and the LGBTQ+ community in the clubbing scene. 
She's performed in different clubs all over Poland and at some festivals such as Tauron Nowa Muzyka Katowice, Open Source Art Festival, Upper Festival or Ephemera Festival. You could catch her playing in London (Colour Factory), Amsterdam (s105, BRET) or Bratislava (Fuga). Her sets are hybrid with rhythmic switch-ups blending cut-up deconstructed club-music with trap, UK bass, abstract techno and EDM snippets. 
She released mixes for Boiler Room: HARD DANCE series, Ransom Note and had occasional radio shows at NTS, HÖR Berlin, Red Light Radio and more. Together with other Oramics members, she was a part of CTM 2021 Discourse panel discussion on solidarity practices within the electronic music scene. In 2020 she was a part of To Be Real art residency at Ujazdowski Castle in Warsaw. 
Nonlinearity rages through the machines. Cyclonic torsion moans. Born under Scorpio zodiac sign, she's ruled by impulsiveness and passion, which reflect in everything she does.
Wanda Wild
Wanda Wild steht für tiefen organischen, melodischen Techno. Mit Liebe zur Dramatik mischt sie verspulte Melodien, tiefe Bässe mit Progressive und deep House und sorgt damit für eine einzigartige Synergie. Vor sich her rollende Beats paaren sich mit einem auf und abgang aus bouncy house und düsteren Klängen. 
"Ich weiß selbst nicht so ganz, wie man das nennt". 
Verschiedene Genres, die sich in einer leichten Melancholie verbinden, die sich in ihren Sets versteckt. Dieses soll nämlich eine Geschichte erzählen. 
Wanda Wild ist Resident im Bahnwärter Thiel, Teil des Passauer Party Kollektivs Villa Tu Nicht Gut und spielt für electronic flow yoga down tempo sets für yogis die auch beim yoga nicht auf elektronische Musik verzichten wollen.
Mit ihrem Sound schaffte sie es bereits nach Berlin und hat diesen Sommer auch festivaltechnisch einiges vor.
Lux
Die Münchner Technorebellin erzählt mit ihrem eigenen Style und ihrer Track Auswahl, geprägt von den
90er, eine Geschichte von Dark zu Happy über Trash zu New Trance und schafft so unvergessliche
Momente. Als Resident bei Das.Syndikat spielt LUX im "Cage" neben namenhaften Künstlern.
Spätestens seitdem ist sie nicht mehr aus der Münchner Szene weg zu denken.
Derzeit macht sie ein Volontariat bei einem internationalen Radiosender in München als Produzentin. Außerdem arbeitet sie aktuell an eigenen Tracks.

7 years ago, LUX from Munich set herself the task, inspired by the sound of the 90s, to tell the club scene a story with her own sound. Her musical influence ranges from Dark to Happy Rave to Trash to New Trance. As a resident of Das.Syndikat, she plays in the so-called "cage" alongside international DJs. Since then, at least, she has been an indispensable part of the Munich scene.
She is currently doing a traineeship in production at an international radio station in Munich. She is also currently working on her own tracks.
TPS Nostromo
Münchner VJ-Kollektiv TPS Nostromo – eine visuelle Bereicherung, die im nächsten Moment aus der Komfortzone ausbricht und ästhetische und gesellschaftliche Gewohnheiten hinterfragt. Agit-Prop meets Dada. Bilder zum Wohlfühlen, Aufschrecken, Abschalten. Let's dänce!
Munich based VJ collective TPS Nostromo –
a visual enrichment that breaks out of the comfort zone in the next moment and questions aesthetic and social habits. Agit-Prop meets Dada. Images to make you feel good, startle you, switch off. Let's have a good time!
NO SPACE FOR SEXSIM, RACISM, HOMOPHOBIA, TRANSPHOBIA & VIOLENCE! HARRY KLEIN IS A SAFER SPACE FOR EVERYONE, PLEASE RESPECT THAT!
Sei offen gegenüber deinen Mitmenschen.

Helfe, wenn dich jemand danach fragt.

Versuche dein Gegenüber zu verstehen.

Melde dich bei uns, wenn du dich unwohl fühlst.

Behandle deine Mitmenschen mit Respekt.

Frag nach, wenn etwas unklar ist.

Vertrauen ist die Basis für unser Miteinander.

Vermeide Worte, die du selbst nicht hören magst.
17.06.2022 - Beginn 22:00

Ende: 18.06.2022 07:00

Kosten: € 10.00 VVK | € 12.00 Abendkasse

Adresse
Harry Klein
Sonnenstraße 8
80331 München
Deutschland