04.06.2021
Marry Klein Global pres. by female:pressure | Marry Klein Livestream Festival 2021 | Day 3
Ida Bux & Kollage Kollectiv • Vidza • Tulpa Dusha • mʊdʌki • Red Pig Flower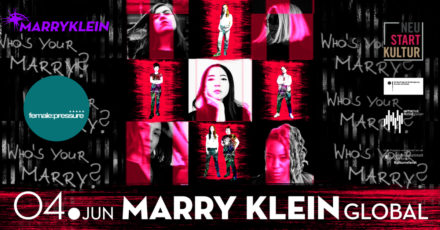 Ida Bux found her passion for (hard) electronic dance music in Cali, Colombia, where she was a regular at the infamous Convulxion parties. When she moved to Berlin in 2016, she immersed herself in the Berlin techno scene pretty quickly. From then on, she played regularly at festivals, various Berlin and Leipzig clubs. In 2020, she founded Kolektiw Klanki, the first Sorbian hip-hop crew for women only.
Vidza is one of the fastest rising house DJs and producers in Nairobi and has been making a name for herself in the Kenyan house music scene over the past few years. Vidza grew up playing piano, violin and classical music, but in the 90s she started getting into house music and has never looked back. She is notorious for her hard tribal sound, a combination of house and African beats.
Tulpa Dusha are two audio projects created by Anna Martinova. "Tulpa" here are audio stories of night dance oriented psychedelic techno improvisations. Dusha is the music, composed and sung by her. Anna
Martinova is a Netherlands-based, Latvian-born electronic music composer. Martinova has been DJing dark progressive and dark psychedelic trance for about 20 years and actively producing music since 2012. She got to know her specific style, the so-called "modular synthesis", when she started performing Tulpa | Dusha live, and switched completely to recording and live performance with her personal system in 2017.
mʊdʌki is a Czech/Austrian based sound artist, DJ and electronic music producer from Minsk, Belarus. Her DJ sets are based on an energy conveyed through an eclectic sound selection. Starting with digital DJing, mʊdʌki also expands her vinyl collection of minimal, acid and hard industrial techno grooves. A thorough selection of contemporary tunes play an important role in her sets.
Berlin based Korean-Japanese producer, visual artist, DJ and label owner Red Pig Flower has become a highly respected figure in Berlin's underground scene. As a DJ Red Pig Flower's sound traverses through a broad spectrum of styles ranging from playful House and tripped out minimal sounds through to more murky, textured Techno and groove-driven loops, whilst her own live set leans heavily on a more hypnotic style of House and Techno.
Curated by female:pressure through DJ Acid Maria & Jackie Queens.
Special thanks to:
– Support programme of the Federal Government "Neustart Kultur"
administered by GEMA & Initiative Musik
– Support from the Cultural Department of the City of Munich
– Raving FM
– Radio Spurensuche
– #münchenhältzamm
& thanks to all the sites that broadcast this stream.
Technique & Recording: Pixolux
Production: Harry Klein GmbH
Direction: the whole team
Artwork by Proximal
You can also find this livestream at YouTube & Mixcloud.
If you lose the connection to the livestream, just check: https://www.facebook.com/harrykleinclub/live/
You can find our complete library at: https://www.facebook.com/harrykleinclub/videos/
You will find a Marry Klein Festival Playlist at the Harry Klein Soundcloud profile.
Tune in, stay healthy and have fun!
PS. The livestream is free of charge. Of course we have created the possibility for you to support the venue:
http://bit.ly/hklivestreamsupport
04.06.2021 - Beginn 20:00

Ende: 05.06.2021 00:30

eintritt frei

Adresse
YouTube & Facebook