11.06.2021
Marry Klein Global pres. by female:pressure | Marry Klein Livestream Festival 2021 | Day 7
KSENIA KAMIKAZA • NESA AZADIKHAH • MS SELFIE • CERPINTXT • JUANA VALERIA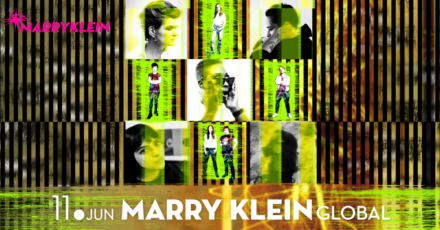 NESA AZADIKHAH
JUANA VALERIA
Marry Klein Global is a collaboration between the female:pressure network and the Marry Klein Festival. female:pressure sent out a call to the worldwide working network. DJ Acid Maria and Jackie Queens curated a selection of finest pearls of DJ* and Live-Sets from the incoming submissions. Every Friday from upon 20.00 h (gmt) there will be a livestream, sending out these musically diverse sets from female artists all over the world.
Ksenia Kamikaza – DJ & producer based in Tbilisi. Founder of Platz fur Tanz label and UNDER festival in Riga. Being a full time DJ and promoter, she produces her own music, putting emphasis on that it's not techno or electronica but her own search of inner rave's sound.
Nesa Azadikhah is a Tehran-based Dj, music producer, composer, sound artist, and musician. From playing tonbak and daf at the age of sixteen in underground dance circles, she has established herself as one of Tehran's most in demand electronic music and sound artists and composers. She is the Founder/Owner and managing director of Deep House Tehran where she promotes iranian electronic Musicians.
Ms Selfie is a Zambian based Afro House DJ. Ms Selfie infuses new and nostalgic sounds to evoke freedom of expression and joy Afro House music is known for. She has since toured Southern Africa and actively taken part in a DJ mentoring program known as Rackless Kazi which is an interactive residency featuring an all women line up. She was called one of the Women Changing The Face of Electronic And Dance music 2021.
Cerpintxt is an electroacoustic post-ape progress report from the cosmic madhouse, through the medium of voice, auto-destruction, wind-guided, meekly ritualistic, discordant experiments. Her work is concerned with generating an invented language of a particular strain of softness through phonetic entropy and cumulative aleatoricism.
Juana Valeria is a Freiburg-based DJ from Colombia and a member of the Colombian feminist collective Pez Alado. Her music selection is heavily influenced by retro synth sounds mixed with dark atmospheres, and her mixes oscillate around acid sounds, EBM, and, of course, the punchy beats of the breakbeat. Her sound can be defined in two words: energetic and unpredictable, a mix of elements that go beyond "4 On The Floor" and traditional melodies.
Online you always dance in the front row.
Special thanks to:
– Support programme of the Federal Government "Neustart Kultur"
administered by GEMA & Initiative Musik
– Support from the Cultural Department of the City of Munich
– Female:Pressure
– Dance Television
– Raving FM
– Radio Spurensuchen
– #münchenhältzamm
& thanks to all the sites that broadcast this stream.
This videos are produced by the artists themself and where curated by DJ Acid Maria & Jackie Queens from the Female:Pressure network.
Artwork by Sicovaja
You can also find this livestream at YouTube & Mixcloud.
If you lose the connection to the livestream, just check: Livestream
You can find our complete library at: Videos
You will find a Marry Klein Festival Playlist at the Harry Klein Soundcloud profile.
Tune in, stay healthy and have fun!
PS. The livestream is free of charge. Of course we have created the possibility for you to support the venue: Livestream Support
11.06.2021 - Beginn 20:00

Ende: 12.06.2021 00:30

eintritt frei

Adresse
YouTube & Facebook