05.06.2021
Marry Klein Livestream Festival 2021 | Club Night | Day 4 w/ NUSHA
NUSHA • DENISE SCHNEIDER • STEFANIE RASCHKE • ALICEA • VJ PROXIMAL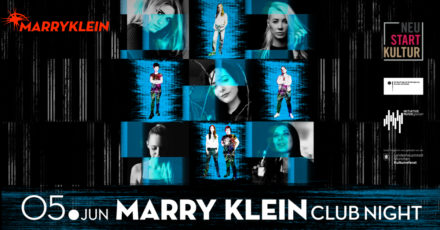 A woman at the top of her game is the unique Romanian female artist Nusha, who is involved into the techno scene since 2007. She has experimented and refined her musical taste throughout the years. She is experienced by experience and developed her own signature sound which never seems to fail!
Her sets are powerful presenting a creative selection of techno gems, where standing still is not an option. Nusha is moving towards the next chapter in her dynamic career, creating chaos on the dancefloors around the globe. Be ready to get a taste of Nusha's chaos!
Alicea: ALICEA is a passionate DJ from Munich in Germany who loves to play with different electronic music genres. However, she is especially attracted to chords and deep, melancholic Techno, which is why she likes to combine Dub Techno with Dark techno elements. As a DJ she loves to create hypnotic and hard soundscapes which make the crowd dancing. ALICEA has been playing in different Techno clubs since 2019 and is just starting to produce.
Stefanie Raschke: Starting her musical career in 2014 she soon became a resident DJ at Harry Klein Club. Since then, she shared the stage with many major artists and played in renowned clubs and festivals all over Germany as well as internationally.
Expressing herself through hypnotizing melodies, dark melancholic vibes and mostly progressive bass lines in her dj sets, she always creates a strong bond with the audience. Her musical style lies somewhere in between Melodic Techno, Progressive House and Indie Dance which also reflects in her productions she released on labels like Ritter Butzke and Einmusika.
Denise Schneider: Her homeland of Germany still remains one of her important bases as the export country for techno. It is from there that she constantly infiltrates the scene and roughens it up with her own productions and collaborations. Her PULVERTRUM remix on Kosmo Records once again underlines her international character, which she conveys with her various productions. Festivals such as MAYDAY or LUFT & LIEBE were important cornerstones of her success, and the club scene now celebrates her sound on all dancefloors around the globe.
The visuals are contributed by VJ Proximal, who always knows how to hypnotize with her macabre style.
Special thanks to:
– Support programme of the Federal Government "Neustart Kultur"
administered by GEMA & Initiative Musik
– Support from the Cultural Department of the City of Munich
– Nusha
– Dance Television
– JedenTagEinSet
– Pacha Munich
– In München
– Raving FM
– Radio Spurensuche
– #münchenhältzamm
& thanks to all the sites that broadcast this stream.
This videos are produced by the artists themself and where curated by DJ Acid Maria & Jackie Queens from the Female:Pressure network.
Artwork by Proximal
You can also find this livestream at YouTube & Mixcloud.
If you lose the connection to the livestream, just check: https://www.facebook.com/harrykleinclub/live/
You can find our complete library at: https://www.facebook.com/harrykleinclub/videos/
You will find a Marry Klein Festival Playlist at the Harry Klein Soundcloud profile.
Tune in, stay healthy and have fun!
PS. The livestream is free of charge. Of course we have created the possibility for you to support the venue:
http://bit.ly/hklivestreamsupport
05.06.2021 - Beginn 20:00

Ende: 06.06.2021 00:30

eintritt frei

Adresse
YouTube & Facebook