02.06.2021
Marry Klein Livestream Festival 2021 | Local | Day 1
WHATDOTHEYKNOW • FRAN • LUX • MAVALU • ISSENSE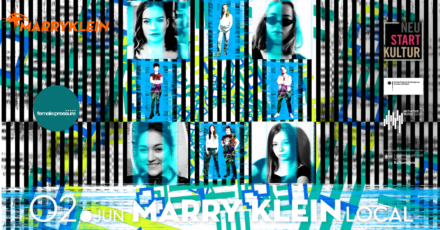 Artists of the Livestream:
Whatdotheyknow
FRAN
Lux
Mavalu
VJ Issense
Whatdotheyknow vom Synthvision Kollektiv bringt den Rave in dein Wohnzimmer.
FRAN ist eine vielversprechende junge DJ, die genau weiß, was sie hinter den Decks machen muss.
Die Münchnerin Lux besticht mit ihren dirty beats und kompromissloser Hingabe zu Musik.
Mavalu ist eine Nachwuchskünstlerin aus München, die unermüdlich für eine größere Verbreitung elektronischer Musik im Süden Deutschlands kämpft.
Issense sind zwei Münchner VJ-Künstlerinnen, die 2018 ihre Liebe zur Videokunst entdeckt haben und zaubern seitdem farbenfrohe visuelle Impulse, die gute Laune machen. Ob bizarre Kontraste oder tänzelnde Formen, die im Raum fliegen, ihre Videos regen die Fantasie der Zuschauer an. Sie experimentieren mit außergewöhnlichen Techniken und schaffen dabei eine Symbiose mit der Musik der DJ*s.
Special thanks to:
– Support programme of the Federal Government "Neustart Kultur"
administered by GEMA & Initiative Musik
– Support from the Cultural Department of the City of Munich
– Raving FM
– Radio Spurensuche
– #münchenhältzamm
& thanks to all the sites that broadcast this stream.
Technique & Recording: Pixolux
Production: Harry Klein GmbH
Direction: the whole team
Artwork by Proximal
You can also find this livestream at YouTube & Mixcloud.
If you lose the connection to the livestream, just check: https://www.facebook.com/harrykleinclub/live/
You can find our complete library at: https://www.facebook.com/harrykleinclub/videos/
You will find a Marry Klein Festival Playlist at the Harry Klein Soundcloud profile.
Tune in, stay healthy and have fun!
PS. The livestream is free of charge. Of course we have created the possibility for you to support the venue:
http://bit.ly/hklivestreamsupport
02.06.2021 - Beginn 20:00

Ende: 03.06.2021 00:30

eintritt frei

Adresse
YouTube & Facebook