22.05.2020
LIVESTREAM Rant & Rave
MAX ERDLE • MAX VINCENT RAW • JULIUS ISAAK • ZIMMERMANN • LEONIE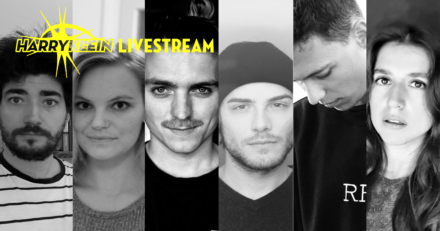 MAX ERDLE
MAX VINCENT RAW
JULIUS ISAAK
LEONIE
BERTA YAMINI
***
Liebe Freunde, dear friends,
Die Rant & Ravler sind wieder da! Obacht, obacht!
Künstler*innen des Livestreams / artists of the livestream:
Max Erdle (music)
Max Vincent Raw (music)
Julius Isaak (music)
Zimmermann (music)
Leonie (music)
Berta Yamini (visuals)
Livestream Unterstützung/Support findet ihr auf unserer Website
oder unter https://www.facebook.com/pg/harrykleinclub/shop/
Ein großer Dank geht an:
Special thanks to:
Ferdinand Olszewsky (info @ streamedia . tv)
Pixolux
Magic-Medientechnik.de
& the artists* who support us unprecedentedly in this matter.
Tune in and stay healthy
PS: video content
https://www.facebook.com/pg/harrykleinclub/videos/
twitch.tv/harrykleinclub
youtube.com/channel/UClvs0tjkJXaGwWhrqM1HFVA
22.05.2020 - Beginn 19:30

Ende: 23.05.2020 00:30

eintritt frei

Adresse
Harry Klein
Sonnenstraße 8
80331 München
Deutschland