18.03.2023
Perras Party Service w/ Amaliah, MRTI, Leon Haller b2b Manuel Loewe, Louis EMP & Mo
Perras love Amaliah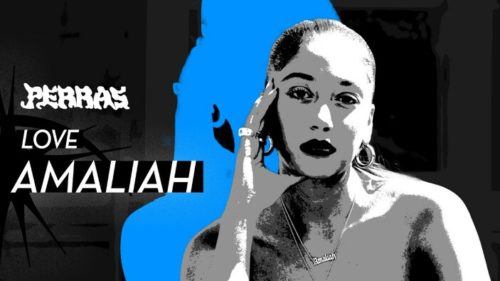 Harry Klein
Timetable (Music)
Timetable (Visuals)
22.00 Uhr Mo (Team Pommes | Berlin | she/her)
Perras Party Service is back at it again. This time with a long-awaited guest and one of our favourite uprising artists:
Künstler*innen
Amaliah
The London based DJ and producer has proven her eclectic taste in sound that is often described as "mixed bag energy". She effortlessly bounces between house, techno, prog, percussive, UK funky and her sets always consist of high energy rhythms that are sure to make you dance. Running her own label "Borne Fruits" she was dubbed as one to watch in the UK and beyond.

MRTI
MRTI will open the night in style
Leon Haller b2b Manuel Loewe
Leon Haller & Manuel Loewe will join forces and go b2b for the first time to warm up the floor
Louis EMP
and Louis EMP is on duties to serve exquisite closing hours.
Mo
Full-time sweet heart and VJ Mo will provide the perfect visual ambiance.
Honeys, let's cut it short: You better come or you'll miss something. Perras looove Amaliah!
NO SPACE FOR SEXISM, RACISM, HOMOPHOBIA, TRANSPHOBIA & VIOLENCE! HARRY KLEIN IS A SAFER SPACE FOR EVERYONE, PLEASE RESPECT THAT!
Please, use the SafeNow App for your connection to the security at Harry Klein. 
Awareness im Club bedeutet für uns:
Sei offen gegenüber deinen Mitmenschen.
Helfe, wenn dich jemand danach fragt.
Versuche dein Gegenüber zu verstehen.
Melde dich bei uns, wenn du dich unwohl fühlst.
Behandle deine Mitmenschen mit Respekt.
Frag nach, wenn etwas unklar ist.
Vertrauen ist die Basis für unser Miteinander.
Vermeide Worte, die du selbst nicht hören magst.
Einlassrecht vorbehalten.
18.03.2023 - Beginn 22:00

Ende: 19.03.2023 07:00

Kosten: € 10.00 VVK | € 13.00 Abendkasse

Adresse
Harry Klein
Sonnenstraße 8
80331 München
Deutschland