12.05.2023
Ritual:Digital mit Coloray, Zizou, Inspektor Lenny, Tamara Wirth, Banali, Sicovaja, Zava & Young Lyng
Ritual:Digitals letzter Rave w/ Coloray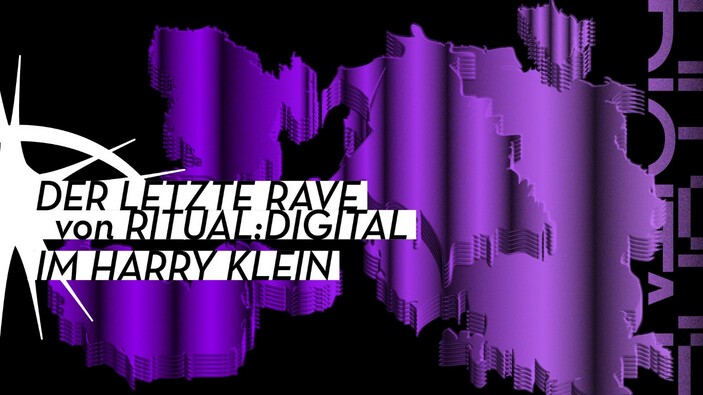 Timetable (Music)
Timetable (Visuals)
02.30

Uhr

Young Lyng (Studio Ugly | Stuttgart | he/him)
We are Ritual:Digital, a ritualistic get together for all different kinds of humans to get lost to rhythmical beats.
We can't believe it, but yes, for the last time, for the very last time, we'll host a Ritual:Digital party at our beloved Harry Klein. BUT! On the 12th of May we'll say goodbye with a big bang.
Künstler*innen
Coloray
Presenting to you, one of the most exciting electronic artists from the Netherlands: Coloray. The Tilburg-based DJ, producer, singer and graphic designer infuses powerful, unpolished sound aesthetics with relentless energy. We can't wait to hear what he brings to the table as a DJ: A sound aesthetic that is sophisticated but not complicated, melodic in the best possible way, percussive, very danceable and contains hints of underground 90s rave euphoria. So let's make this a special one and dance together until the early morning, guys! 
Zizou
As always, Coloray will be supported by the Ritual:Digital raving team: Zizou will open the night with his trademark sound ranging from House over Balearic sounds into Italo Disco territories.
Inspektor Lenny
Inspektor Lenny will take over with his unique blend of percussive underground 90s House and Trance.
Tamara Wirth B2B Banali
And for the closing, we have a very special treat for you: Tamara Wirth and Banali will go b2b to end the Ritual:Digital chapter at Harry Klein on a high note. 
Sicovaja
Zava
Young Lyng
Dies ist der letzte Rave von Ritual:Digital im Harry Klein in der Sonnenstraße. 
Das Closing Wochenende des Harry Klein ist am 19. bis 21. Mai 2023. 
Wir bedanken uns bei allen Gästen, Künstler*innen, Mitarbeiter*innen Freund*innen und Fans, die in den fast 20 Jahren mit uns gemeinsam gefeiert haben. #harrykleinforever
NO SPACE FOR SEXISM, RACISM, HOMOPHOBIA, TRANSPHOBIA & VIOLENCE! HARRY KLEIN IS A SAFER SPACE FOR EVERYONE, PLEASE RESPECT THAT!
Please, use the SafeNow App for your connection to the security at Harry Klein. 
Awareness im Club bedeutet für uns:
Sei offen gegenüber deinen Mitmenschen.
Helfe, wenn dich jemand danach fragt.
Versuche dein Gegenüber zu verstehen.
Melde dich bei uns, wenn du dich unwohl fühlst.
Behandle deine Mitmenschen mit Respekt.
Frag nach, wenn etwas unklar ist.
Vertrauen ist die Basis für unser Miteinander.
Vermeide Worte, die du selbst nicht hören magst.
Einlassrecht vorbehalten.
12.05.2023 - Beginn 22:00

Ende: 13.05.2023 07:00

Kosten: € 10.00 VVK | € 13.00 Abendkasse

Adresse
Harry Klein
Sonnenstraße 8
80331 München
Deutschland