05.08.2022
Schabernack mit ERIS, Snu, Jeyrototo, Epigo und VJ Zava
Schabernack w/ ERIS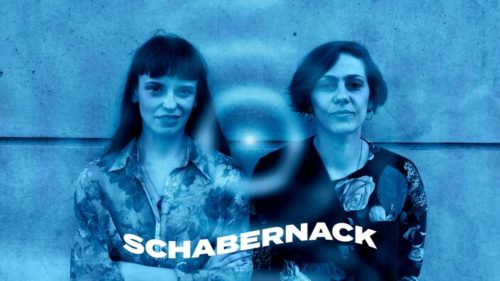 Harry Klein
Playlist
Visuals
 22.00 Uhr Zava (Harry Klein Visuals | München | he/him)
Künstler*innen
ERIS
Enrica Falqui represents the Sardinian half of ERIS.  Enrica loves spending long hours in the studio, experimenting, refining, learning, and creating sounds.
Her new chapter is called ERIS.
Dea represents the Croatian half of ERIS. Born into a family of musicians, Dea was dancing before walking and playing piano before she could write. After years of studying politics to make a difference in the world, she realized she could instead make an impact with art.
Was a quite interesting start to what we now call ERIS. Two souls from different musical histories met on a simple night out. They instantly connected and their taste and passion spiraled into production and mixing sessions. Their debut EP was released on CABARET Recordings and with that Moments EP was created.

Snu
Never shy of blurring different genres and styles, Snu discovered the sheer endless opportunities of music production and mainly got into groovy house related records, which he usually selects to play in his DJ sets.
Jeyrototo
Munich-based DJ Jeyrototo brings you on a liberating musical journey. Her sound feels effortless, playful, and warm, yet melancholic at times. This Friday, she will start off the evening with a selection of funky electro, breaks, deep and leftfield house.
Epigo
Zava
Antonio Zavagli aka zava multimedia-creative-engine, vj, programmer, designer, defines his work as "pop-glamour".
His approach to vjing is characterized by a massive use of abstract 3d models, graphics, vectors, continuous sequences, repetitions, and complex development of images, lines, points.
NO SPACE FOR SEXSIM, RACISM, HOMOPHOBIA, TRANSPHOBIA & VIOLENCE! HARRY KLEIN IS A SAFER SPACE FOR EVERYONE, PLEASE RESPECT THAT!
Sei offen gegenüber deinen Mitmenschen.

Helfe, wenn dich jemand danach fragt.

Versuche dein Gegenüber zu verstehen.

Melde dich bei uns, wenn du dich unwohl fühlst.

Behandle deine Mitmenschen mit Respekt.

Frag nach, wenn etwas unklar ist.

Vertrauen ist die Basis für unser Miteinander.

Vermeide Worte, die du selbst nicht hören magst.
Achtung! Ab und zu machen wir Videoaufnahmen im Harry Klein. Diese dienen nicht dazu Menschen zu kontrollieren, sondern es geht darum Künstler*innen aufzunehmen und dies danach zu veröffentlichen. Dies gilt vor allem für den Bereich des DJ & VJ Pult und somit auch für die vordere Reihe. Klicke hier um ein Beispiel zu sehen.
Einlassrecht vorbehalten.
05.08.2022 - Beginn 22:00

Ende: 06.08.2022 07:00

Kosten: € 10.00 VVK | € 12.00 Abendkasse

Adresse
Harry Klein
Sonnenstraße 8
80331 München
Deutschland