01.05.2021
Kollektiv Bushbash Livestream w/ Seth Schwarz
SETH SCHWARZ • ÄXOLOTL • CARL STURM • DOUBLEVISIONS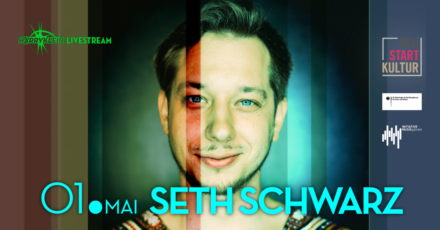 Livestream aus dem Harry Klein:
20:00 Uhr ÄXOLOTL
21.30 Uhr Seth Schwarz live
23.00 Uhr Carl Sturm
VJ Doublevisions
With a livestream, you're always dancing at the front!
Seth Schwarz is a master of his craft. But which one is that exactly? The multi-talented musician virtuously combines electronic and classical music and has created his own personal genre. When he reaches for his violin behind the DJ booth, you get a holistic sound that perfectly unites driving beats and mellow sounds. We bow to so much musical talent and are happy to welcome Seth Schwarz to Harry Klein.
Doublevisions has been doing live visuals and artistic event design with light since 1994. Through skilled photo design, they prefer to mix real images with abstract and graphic elements. A long passion for electronic music, festivals and club culture drives this cross-generational work. Since Corona, psychedelic and unique light objects from the 3D printer are a new creative focus.
Special thanks to:
– Förderprogramm der Bundesregierung "Neustart Kultur"
verwaltet von GEMA & Initiative Musik
– In München
– Raving FM
– Radio Spurensuche
– #Münchenhältzamm
& ein Dank an alle Seiten, die diesen Stream übertragen.
Technik & Aufnahme: Pixolux
Produktion: Harry Klein GmbH
Regie: das gesamte Team
Artwork by Sicovaja
Du findest unseren Livestream zusätzlich bei YouTube & Mixcloud.
Verlierst du die Verbindung zu dem Livestream, check einfach: https://www.facebook.com/harrykleinclub/live/
Unsere komplette Library findest du unter: 
https://www.facebook.com/harrykleinclub/videos/
Schalte ein, bleib gesund und viel Spaß!
PS. der Livestream ist kostenlos. Natürlich haben wir dir die Möglichkeit geschaffen uns zu unterstützen:
https://shop.harrykleinclub.de/collect…/livestream-support
01.05.2021 - Beginn 20:00

Ende: 02.05.2021 00:30

eintritt frei

Adresse
YouTube & Facebook