03.12.2022
SEV Club Night w/ Cecilia Tosh, Indigo Plateaux, F.R.A.N., Lily Lillemor & VJ Vital Electronica
SEV Club Night w/Cecilia Tosh & Indigo Plateaux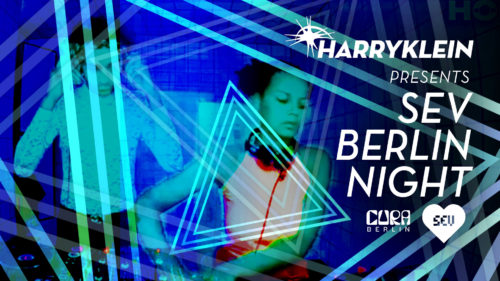 Harry Klein
Timetable (Music)
Timetable (Visuals)
SEV Berlin was born out of the idea to offer music interested & newcomers a free space for musical development and the conscious perception of electronic sounds. Starting with parties at Golden Gate, from there to various clubs, livestreams & interviews, the collective developed into an artist & booking agency and an established institution in club culture.
In the summer of 2021 they founded CURA Berlin, their own open-air space & pop-up venue. On an asphalt surface in the middle of the city they created a space for art, music and community together with other collectives. There they also created in collaboration with DUCTTAPE, their first own drag show who´s now having their home at Kater Blau / Holzmarkt.
Künstler*innen
Cecilia Tosh
The German/Mozambican soul Cecilia Tosh is a Berlin based artist and entrepreneur. She is Co-Founder and booker of the agency SEV Berlin and the open air space CURA Berlin. Cecilia and her team are devoted to creating more holistic surroundings and experiences in the context of clubculture.
Sonically Cecilia is influenced and most inspired by Detroit Techno and Dub Techno. In her mixes she incorporates tribal elements, no matter what genre, in between and promises: to stay true to her own flavor and vibe. Her sets have a constant groove, are deep and trippy.
From June 2022 she is the new curator of Tresor's event series "New Faces". She is playing in clubs like Berghain, About Blank, Rote Sonne, PAL, Wilde Renate and has her regular slots at HÖR. She can also be seen at various festival stages across Europe. Furthermore, she will have her second Berghain Event and South Africa Tour in the beginning of 2023.
Indigo Plateaux
Indigo Plateaux is the latest alias of multi-instrumentalist and producer Jared Hines.
Raised by an avid record collector and DJ father, conceived in Paradise Garage, and mentored by the Berlin rave culture, Indigo Plateaux continues the legacy of black queer excellence in Techno and House.
Indigo Plateaux is a resident DJ of Porzellan Bar and part of the Artist Agency SEV Berlin. He serves an eclectic fusion of groovy minimal techno, electro, and ghetto tech.
F.R.A.N.
F.R.A.N. has been thrilling audiences with her crisp bass house tunes as a passionate DJ since 2019. From euphoric sounds to distinctive lyrics that put the sweaty crowd in a state of emergency after just a few beats, it's all there. But don't be fooled by their sugary sweet nature, because F.R.A.N. also likes to unpack their dark and gloomy techno and seduce you into an electronic dance frenzy until the bitter end.
Lily Lillemor
Let the dance floor shake! Lily captivates her audience so that they can lose themselves in driving beats. Her fine feeling for the interaction of melodies and rhythms manages to stick the crowd on the dancefloor.Since 2018 she has been mixing Dark Disco, Deep House, Synth Wave and EBM. She is technically adept and challenges her audience with surprising turns in the set to a personal development. Each set is a little educational holiday on the dance floor
Vital Electronica
Young Lyng is one half of the Stuttgart-based student-initiated design-collective called »Studio Ugly«.
NO SPACE FOR SEXSIM, RACISM, HOMOPHOBIA, TRANSPHOBIA & VIOLENCE! HARRY KLEIN IS A SAFER SPACE FOR EVERYONE, PLEASE RESPECT THAT!
Awareness im Club bedeutet für uns:
Sei offen gegenüber deinen Mitmenschen.
Helfe, wenn dich jemand danach fragt.
Versuche dein Gegenüber zu verstehen.
Melde dich bei uns, wenn du dich unwohl fühlst.
Behandle deine Mitmenschen mit Respekt.
Frag nach, wenn etwas unklar ist.
Vertrauen ist die Basis für unser Miteinander.
Vermeide Worte, die du selbst nicht hören magst.
Einlassrecht vorbehalten.
03.12.2022 - Beginn 22:00

Ende: 04.12.2022 07:00

Kosten: € 10.00 VVK | € 13.00 Abendkasse

Adresse
Harry Klein
Sonnenstraße 8
80331 München
Deutschland