29.07.2022
Team TURBO mit MILLA LOU, Lazykid, Shabiki, Rad.Lez, Dipolar, Jennifer Hain & TPS Nostromo
Team TURBO Resident Night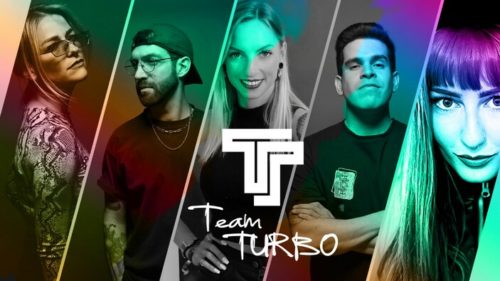 Harry Klein
Playlist
Visuals
 22.00 Uhr TPS Nostromo (Harry Klein Visuals | München | they/them)
Aus einem Freundeskreis heraus gewachsen, veranstalten die Künstler und Macher bei TeamTURBO in wechselnden "Off-Locations" Events und Open Air Festivals mit Wohlfühlatmosphäre und ohne Anonymität. Musikalisch fokussiert auf groovigen Dancefloor Sound in den Genres Techhouse, Minimal/Deeptech und Basshouse sind die TURBO-Partys definitiv ein besonderes Tanzschmankerl. Sound, Licht, dekorative Kunst – alles immer auf höchstem Niveau und mit viel Herz und Liebe zum Detail.
Sag mal…. Sind wir nicht alle ein bisschen TURBO? 🙂

Künstler*innen
MILLA LOU
DJ and producer based in Munich. She plays a dark and athmospheric sound combined with hard basses and underground vocals. She is an important part of Jannowitz and that's why her sets are full of amazing unreleased tracks from the legendary German label and many other top DJs.
Lazykid
Lazykid is a DJ, producer, ex dance teacher and an important part of TeamTURBO, Ümit make his place in the Munich Electronic Music Scene very fast with his music, dance moves and charisma, he really knows how to make his crowd move.
Shabiki
Carina Anwer alias Shabiki is a DJ and producer based in Munich and resident by TeamTURBO. Her sound goes from underground Tech House to dark, minimal and driving techno. Her sound and good performances have brought her to play in a lot of clubs in Munich and surrounding areas.
Rad.Lez
DJ, producer, co-founder of TeamTURBO. His sound goes from driving minimal techno to peak-time Techno. He has the privilege to get unreleased tracks from the Jannowitz pool and many other top DJs and that's why his sets are unique and full of energy.
Dipolar
DJ duo, producers and co-founders of TeamTURBO, they have a big taste in music and they show it on their sets. They can go from house to minimal and end up with techno. Their charisma has brought them to be a big part of Munich´s nightlife
Jennifer Hain
Jennifer is a newcomer DJ based in Munich, her music is perfect to warm up the dance floor as she already has done in some parties in Munich.
TPS Nostromo
Eine visuelle Bereicherung, die im nächsten Moment aus der Komfortzone ausbricht und ästhetische und gesellschaftliche Gewohnheiten hinterfragt. Agit-Prop meets Dada. Bilder zum Wohlfühlen, Aufschrecken, Nachdenken und daran erinnern, wie wir die Welt drinnen und draußen ein bisschen besser machen können.
NO SPACE FOR SEXSIM, RACISM, HOMOPHOBIA, TRANSPHOBIA & VIOLENCE! HARRY KLEIN IS A SAFER SPACE FOR EVERYONE, PLEASE RESPECT THAT!
Sei offen gegenüber deinen Mitmenschen.

Helfe, wenn dich jemand danach fragt.

Versuche dein Gegenüber zu verstehen.

Melde dich bei uns, wenn du dich unwohl fühlst.

Behandle deine Mitmenschen mit Respekt.

Frag nach, wenn etwas unklar ist.

Vertrauen ist die Basis für unser Miteinander.

Vermeide Worte, die du selbst nicht hören magst.
Achtung! Ab und zu machen wir Videoaufnahmen im Harry Klein. Diese dienen nicht dazu Menschen zu kontrollieren, sondern es geht darum Künstler*innen aufzunehmen und dies danach zu veröffentlichen. Dies gilt vor allem für den Bereich des DJ & VJ Pult und somit auch für die vordere Reihe. Klicke hier um ein Beispiel zu sehen.
Einlassrecht vorbehalten.
29.07.2022 - Beginn 22:00

Ende: 30.07.2022 07:00

Kosten: € 10.00 VVK | € 12.00 Abendkasse

Adresse
Harry Klein
Sonnenstraße 8
80331 München
Deutschland