25.06.2022
Marry Klein Clubfestival w/ Amoral, Crline, Ostbam, DJ Handy Azil, VJkET & Sicovaja
Marry Klein Clubnight x Schabernack w/ AMORAL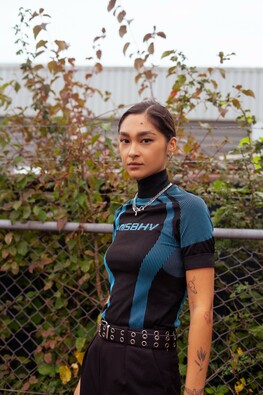 Playlist
Music Marry Klein Clubfestival 2022
Visuals
Marry Klein Clubfestival 2022
Künstler*innen
Crline
With spherical and dark techno Crline brings emotions to the
dance floors. She likes to let herself be carried by the mood of the
night and prefers to act on it spontaneously and above all diversely.
As a member of the feminist collective ProZecco, she has learned
not to be constricted by genre boundaries and therefore also likes
to cross the dividing line between Techno and Trance and harder
sounds. Since 2021, she has been running the Unusual Suspects
label with DJ colleague Ostbam, which will focus on techno and
trance.
Mit sphärischem und düsterem Techno bringt Crline Emotionen
auf die Tanzflächen. Sie lässt sich gerne von der Stimmung der
Nacht tragen und agiert am liebsten spontan und vor allem
vielfältig.
Als Mitglied des feministischen Kollektivs ProZecco hat sie gelernt,
sich nicht von Genregrenzen einengen zu lassen und überwindet
daher auch gerne die Trennlinien zwischen Techno und Trance und
härteren Sounds. Seit 2021 betreibt sie mit DJ-Kollegin Ostbam das
Label Unusual Suspects, das sich auf Techno und Trance
konzentriert.
Ostbam
Engl:
Ostbam started DJing thanks to a workshop in 2015, shortly after she moved from Poland to Dresden. Growing up in Gdańsk had a huge influence on her current style,  which is a mixture of industrial, acid and hard techno, often varied with oldschool hardcore, gabber or even happy hardcore. Shortly after the workshop, Ostbam and few other people have started ProZecco – a feminist DJ collective focusing on workshops and supporting young and unknown FINTA* DJs in Saxony. Around 2017 she moved to Leipzig and slowly established her style while performing in various clubs across Germany (f.i. ://about blank, Institut fuer  Zukunft, objekt klein a, Mensch Meier). Ostbam also had her first undocumented Boiler Room appereance during the HARD DANCE tour back in 2020. Due to pandemic she has focused more on exploring different genres and perceptions of music by launching her and Crline's label called UNUSUAL SUSPECTS, and highlighting harsher music styles such as breakcore or even black metal on her bi-monthly radio show called CROSSING BORDERS on hallo:radio.
Deutsch:

Ostbam nahm kurz nach ihrem Umzug nach Dresden teil an einem DJ-Workshop und fing somit auch unter dem Namen aufzulegen. Ostbams jetziger Sound ist stark von ihrer Heimatstadt Gdańsk/Danzig geprägt. Meistens spielt sie eine Mischung aus Industrial, Acid und hartem Techno, abhängig von der Playtime neigt sie manchmal  mehr zu Oldschool Hardcore und Gabber. Kurz nach dem DJ-Workshop begann sie zusammen mit anderen Teilnehmer*innen als ProZecco zu agieren. ProZecco ist ein feministisches Kollektiv, das sich als Hauptziel junge und unbekannte FINTA* DJs in Sachsen zu supporten gesetzt hat. Nachdem Umzug nach Leipzig konnte Ostbam ihren Sound und Namen mit Gigs in etlichen Clubs in ganz Deutschland (://about blank, Institut fuer  Zukunft, objekt klein a, Mensch Meier) langsam etablieren. Kurz vor Pandemie tritt sie auch bei der Boiler Room HARD DANCE Tour in Leipzig auf. Die aktuelle Lage hat sie dazu gebracht, andere Genres und Wahrnehmungen der Musik im Rahmen von ihrem mit Crline gegründetem Label UNUSUAL SUSPECTS zu entdecken. Außerdem könnt ihr jeden 3. Freitag im Monat bei Hallo:Radio abwechselnd Black Metal, Breakcore und alles anderes in ihrer Sendung namens CROSSING BORDERS hören.
DJ Handy
DJ Handy is a leipzig based artist who is raised in Augsburg, she had her first experience with techno Music in the clubs of Augsburg and Munich. Now she is directed by the rythmic structures of her hometown Leipzig. In her sets she likes to bounce between groovy and driving techno refined by some industrial breaks.
Azil
Azil, based in leipzig, is a dj known for her affinity of the 90's gems and recently produced heaters. either progressiv trance, techno or electro – in her sets she takes you on a journey through intensiv spacey and rolling sound and will transfer you directly into a groovy vibe. As a newcomer she made her first steps with playing in radio shows (callshop radio + radio 80k) and with supporting the local community with organizing parties and playing on parties under the radar. In mjut and Charles Bronson she had her first club experiences and now she is more then ready for everything what is coming new to her agenda.
Amoral
Amoral is an Amsterdam based DJ. Her sound is uptempo with driving melodic rhythms in combination with a rolling baseline.
Her inspiration comes from the community, the dance floor, life experience and the vibrations on a deeper level.
She wants to deliver her audience a feeling of unity by providing a warm space for everyone, where feelings and emotions are held in a safe space. What gives every performance a unique character is her ability to inspire the audience to create their own personal journey.
Sicovaja
Wer einen einen Fixpunkt sucht, wird keinen finden. VJ SicoVaja lässt die Bilder in den Synapsen schmelzen wie das Zelluloid alter Filmschnipsel.Die Schülerin von Ultraschall-Legende Highflyer bespielt heute neben ihrer Heimatstadt München internationale Leinwände und LED-Walls. Durchtrieben anders ist das Motto, eine vorhersehbare Linie sucht man vergebens. Kunst – ein Ausdruck des ewigen Wandels der Gegenwart – alte Filmsequenzen und Farbmuster von 2022.Neu ist was man loslässt, dahinter die Nacht.
If you're looking for a fixed point, you won't find one. VJ SicoVaja makes the images melt in the synapses like the celluloid of old film snippets.The student of ultrasound legend Highflyer now plays on international screens and LED walls in addition to her hometown of Munich. Slyly different is the motto, one looks for a predictable line in vain. Art – an expression of the eternal change of the present – old film sequences and color patterns of 2022.New is what you let go, behind it the night.
VJkET
Techno-Visionärin der neuen Medienkunst. Sie arbeitet mit verschiedenen Formaten der modernen visuellen Kultur, von Raves und A/V-Experimenten bis hin zu Netzkunst und architektonischem Mapping.Ihre Art zu spielen kombiniert utopische und dystopische Visionen unserer hellen und zweideutigen kybernetischen Zukunft.
techno-visionary of new media art. She works with different formats of modern visual culture, from raves and A/V experiments to net art and architectural mapping. Her way of playing combines utopian and dystopian visions of our bright and ambiguous cybernetic tomorrow.
NO SPACE FOR SEXSIM, RACISM, HOMOPHOBIA, TRANSPHOBIA & VIOLENCE! HARRY KLEIN IS A SAFER SPACE FOR EVERYONE, PLEASE RESPECT THAT!
Sei offen gegenüber deinen Mitmenschen.

Helfe, wenn dich jemand danach fragt.

Versuche dein Gegenüber zu verstehen.

Melde dich bei uns, wenn du dich unwohl fühlst.

Behandle deine Mitmenschen mit Respekt.

Frag nach, wenn etwas unklar ist.

Vertrauen ist die Basis für unser Miteinander.

Vermeide Worte, die du selbst nicht hören magst.
25.06.2022 - Beginn 22:00

Ende: 26.06.2022 07:00

Kosten: € 10.00 VVK | € 12.00 Abendkasse

Adresse
Harry Klein
Sonnenstraße 8
80331 München
Deutschland