18.06.2022
Marry Klein Clubfestival w/ JakoJako, Kali, JessRey, Shabiki und VJkET
Marry Klein Clubnight w/JakoJako & Kali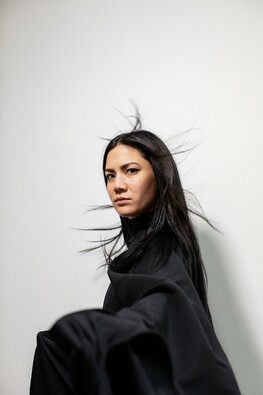 Playlist
Music Marry Klein Clubfestival 2022
Visuals
22.00 Uhr VJkET (Harry Klein Visuals | she/her)
Marry Klein Clubfestival 2022
Künstler*innen
JakoJako
Primarily a live performer, JakoJako makes extensive use of modular synthesis in her productions and on stage. "Depending on how you configure your system, you can design a completely different instrument every time. I love when it's surprising me." When not in the studio, her expertise is put to use advising well-established artists on their own systems at Berlin's synth-mecca SchneidersLaden.
Kali
Kali has been active in the queer nightlife in Budapest since 2013 – when she first started to organize events. She joined the Budapest-based queer feminist collective, Persephone ( @persephoneparty ) in 2019 and she is also part of the queer techno collective, OMOH ( @omohbp ). 
Her mission has always been to form connections and create a stronger queer community in Hungary, where all can feel safer, connect through music, exchange thoughts and share knowledge that might be valuable and interesting for the community.
Besides being part of the organization of Persephone and OMOH, together with her good friend, local artist LAU, they occasionally host DJ workshops to make sure FLINTA people get access to learn more about electronic music and djing – in a supportive environment.
Kali is most in her element when she's mixing trance-inflected breaks and muddy electro, ghettotech with heavy bass. So you can always expect some high-speed bangers with happy vibes and trippy 
melodies.
Shabiki
A Newcomer female Artist from Munich.
Her Career as a DJ and Producer just began in 2020, in this short time she  already had played at places like Harry Klein, Palais Club, Pimpernel, Haralds Kollektivgarten, Beate Uwe Berlin and many private Events.
Shabikis Sound goes from Underground Techhouse and Dark Minimal Deep Tech to Peaktime Driving Techno, the basic essence of her music is the certain groove! 
Her first Release "Ridiculous Behaviour" reaches # 8 of  the Top 10 of Minimal/Deep Tech Hype Charts in one week.
JessRey
It is the harmony between melodically emotional and powerful techno. Balance of acid sounds and soulful vocals. Change between groove and rave. The Munich based DJ is not only about resounding basses. Indeed, the music first invades your heart with warm, soulful atmospherics, and gradually clouding your senses with increasing technoid sounds. Rhythmic elements give the music a touch of spirituality and entice not only the feet, but the whole body to swing. Get ready for an intense closing with this half-ukrainian woman.
VJkET
VJkET – Techno-Visionärin der neuen Medienkunst. Sie arbeitet mit verschiedenen Formaten der modernen visuellen Kultur, von Raves und A/V-Experimenten bis hin zu Netzkunst und architektonischem Mapping.
Ihre Art zu spielen kombiniert utopische und dystopische Visionen unserer hellen und zweideutigen kybernetischen Zukunft und reiht sich wunderbar in Marry Klein ein.
VJkET – techno-visionary of new media art. She works with different formats of modern visual culture, from raves and A/V experiments to net art and architectural mapping.
Her way of playing combines utopian and dystopian visions of our bright and ambiguous cybernetic tomorrow.
NO SPACE FOR SEXSIM, RACISM, HOMOPHOBIA, TRANSPHOBIA & VIOLENCE! HARRY KLEIN IS A SAFER SPACE FOR EVERYONE, PLEASE RESPECT THAT!
Sei offen gegenüber deinen Mitmenschen.

Helfe, wenn dich jemand danach fragt.

Versuche dein Gegenüber zu verstehen.

Melde dich bei uns, wenn du dich unwohl fühlst.

Behandle deine Mitmenschen mit Respekt.

Frag nach, wenn etwas unklar ist.

Vertrauen ist die Basis für unser Miteinander.

Vermeide Worte, die du selbst nicht hören magst.
18.06.2022 - Beginn 22:00

Ende: 19.06.2022 07:00

Kosten: € 10.00 VVK | € 12.00 Abendkasse

Adresse
Harry Klein
Sonnenstraße 8
80331 München
Deutschland