12.06.2021
Marry Klein Livestream Festival 2021 | Club Night | Day 8 w/ Anna Reusch
ANNA REUSCH • DOMINIQUE LAMEE • SCHWESTER STEFANIE • FRANCESCA • VJ MADPOLY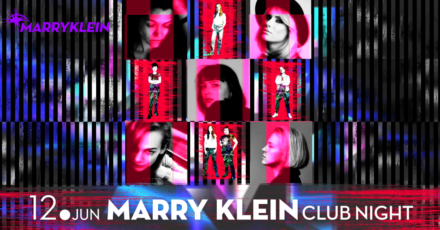 FRANCESCA
VJ MADPOLY
Harry Klein turns into Marry Klein for one month and this is already the 10th edition! We're taking this as an opportunity to celebrate a worldwide unique DJ*, VJ* and live act* festival with over 60 local, national and international artists. With more female empowerment than ever before, completely digital. Now in its tenth year, Marry Klein remains for more equality for women* and non-binary people in the electronic music culture scene.
Anna Reusch's love for electronic music manifested itself at a very young age. She signed with her first label at the age of 17. An absolute natural talent! In between, she modeled and began studying, but no one gets away from electronic music that easily. Meanwhile she is known for her groovy techno, which carries away and touches the crowd every time.
Dominique Lamee is a well-known face of the Nuremberg techno scene. Nuremberg by choice has been a full-time DJ since 2017 and was able to release her first track in December 2020. She has been running the club Haus 33 since 2018 and – in a normal year – DJs there. Meanwhile, she also produces livestreams. And now she will be featured in our Marry Klein Livestream.
Even at a young age, the Erlangen native Schwester Stefanie was enthusiastic about electronic dance music. With her event series "Techno Therapie" she established techno on prescription! If you want to describe her sound, it is definitely melodic, driving and acid. With her, it goes musically quite clearly in only one direction: namely FORWARD.
Francesca is a Munich based DJ with a deep passion for dark and melodic sounds. As part of the Bushbash collective she organizes outdoor raves in the outskirts of Munich, Bavaria. Her trackrange spreads from downtempo over melodic techno to more driving beats, depending on set and setting.
At the visuals VJ Madpoly shows her skills.
With a livestream you always dance in the front row.
Special thanks to:
– Support programme of the Federal Government "Neustart Kultur"
administered by GEMA & Initiative Musik
– Support from the Cultural Department of the City of Munich
– Dance Television
– JedenTagEinSet
– Pacha Munich
– In München
– female:pressure
– Raving FM
– Radio Spurensuche
– #münchenhältzamm
& thanks to all the sites that broadcast this stream.
This videos are produced by the artists themself and where curated by DJ Acid Maria & Jackie Queens from the Female:Pressure network.
Artwork by Sicovaja
You can also find this livestream at YouTube & Mixcloud.
If you lose the connection to the livestream, just check: Livestream
You can find our complete library at: Videos
You will find a Marry Klein Festival Playlist at the Harry Klein Soundcloud profile.
Tune in, stay healthy and have fun!
PS. The livestream is free of charge. Of course we have created the possibility for you to support the venue: Livestream Support
12.06.2021 - Beginn 20:00

Ende: 13.06.2021 00:30

eintritt frei

Adresse
YouTube & Facebook