09.09.2022
NachtEin.TagAus mit Biskuwi, B.ellina, Dave Marshall, Nesstor & Structure
NachtEin.TagAus w/ Biskuwi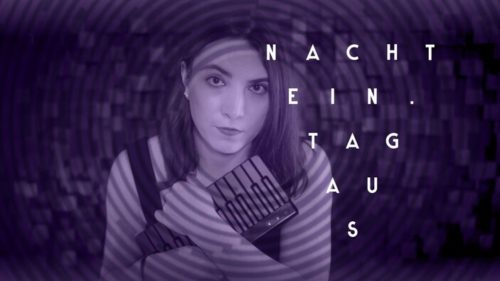 Harry Klein
Playlist
Visuals
Künstler*innen
Biskuwi
Alice Valerie Yalcin Efe, aka "biskuwi", is a Stockholm based electronic music producer whose involvement with music has spanned more than 25 years. 
Played in numerous rock and metal bands; it was not until 2010 that she transitioned their sound; gravitating more and more towards electronic music, especially deep house, and techno. Hence her ability to unite several elements and genres throughout her current productions. 
Her dark, ambient melodies are distinctive, melancholic, and hesitant and her moods are exotic and teasing. Her compositions subdue character, and its charm comes through in its distinct directness and its lack of allegiance to any aesthetic or genre, although, she fashions the idea of simplicity. 
She creates musical elements that twist and wrap organically around each other. Hence, she became one living and evolving 'thing'.
B.ellina
Bellina ist schon lange in der elektronischen Musik unterwegs, der Weg zum DJ ist die logische Konsequenz.  Dies ist aus der Motivation entstanden, ihre eigene Interpretation elektronischer Musik mit uns zu teilen. 
Nachdem sie sich schon länger damit auseinandersetzt, bringt sie es jetzt auch auf die Bühne. 
Sie arbeitet mit den Münchner Kollektiven Isar Bass und Netzwerk zusammen und bespielte Locations wie das Harry Klein, die Gruam und Bahnwärter Thiel.
Bellina's Sets zeichnen sich durch melodische und emotional geladene Strukturen aus. Der treibende Sound lädt zum Tanzen und Träumen ein.
Dave Marshall
Nesstor
Paul aka Nesstor is an active part of Munich's nightlife since 2016 and delivers with his mix of psychedelic and deep styles of progressive house and techno a constant streamline of quality sets and productions. As one of the members of NachtEin.TagAus, he is constantly working on finding new artists and fresh music. He is also responsible for a number of off-location events in and around Munich since 2016 and is one of the heads behind the MiLA-Festival.
Structure
Forschender. Strukturen testend. Analog meets Digital.
NO SPACE FOR SEXSIM, RACISM, HOMOPHOBIA, TRANSPHOBIA & VIOLENCE! HARRY KLEIN IS A SAFER SPACE FOR EVERYONE, PLEASE RESPECT THAT!
Sei offen gegenüber deinen Mitmenschen.

Helfe, wenn dich jemand danach fragt.

Versuche dein Gegenüber zu verstehen.

Melde dich bei uns, wenn du dich unwohl fühlst.

Behandle deine Mitmenschen mit Respekt.

Frag nach, wenn etwas unklar ist.

Vertrauen ist die Basis für unser Miteinander.

Vermeide Worte, die du selbst nicht hören magst.
Achtung! Ab und zu machen wir Videoaufnahmen im Harry Klein. Diese dienen nicht dazu Menschen zu kontrollieren, sondern es geht darum Künstler*innen aufzunehmen und danach zu veröffentlichen. Dies gilt vor allem für den Bereich des DJ & VJ Pult und somit auch für die vordere Reihe. Klicke hier um ein Beispiel zu sehen.
Einlassrecht vorbehalten.
09.09.2022 - Beginn 22:00

Ende: 09.09.2022 07:00

Kosten: € 10.00 VVK | € 12.00 Abendkasse

Adresse
Harry Klein
Sonnenstraße 8
80331 München
Deutschland