26.11.2022
Ritual:Digital w/ Zeynep, Florian Bühler, Inspektor Lenny, Tamara Wirth, Sicovaja & Young Lyng
Ritual:Digital w/ Zeynep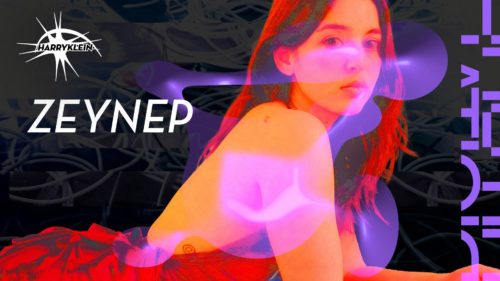 Harry Klein
Timetable (Music)
Timetable (Visuals)
22.00

Uhr VJ Sicovaja

(Harry Klein Visuals | she/her)

02.30

Uhr

Young Lyng (Studio Ugly | Stuttgart | he/him)
Künstler*innen
Zeynep
Zeynep is a diverse selector who likes to dominate the dancefloors with her genre-bending sets.
With a big passion for music Zeynep is never shy to cross-mix multiple genres. For the Berlin based DJ it's all about HI-NRG, where she likes to combine different flavors of her eclectic and ravey selection by including elements of breaks with a spice of trance and house influence. Her club sets are tempo driven and infused with euphoria – the resulting combination is sure to get any floor moving.
Florian Bühler
When Florian Bühler is behind the decks, this is what you get: House, Indie Dance and sophisticated melodic tunes!
Inspektor Lenny
Inspektor Lenny takes you back to the 90's with a sophisticated but also unpretentious blend of music sonically encapsulating feelings somewhere on the borders between euphoria, nostalgia and melancholia. His signature sound is heavily influenced by Trance music from the 90s with hints of Italo Disco, Progressive House, Broken Beats and Acid – your personal 90s Nostalgia Service!
Tamara Wirth
Tamara Wirth is a Stuttgart-based DJ who specializes in techno, hard house and small influences of trance. Her style is characterized by her ability to seamlessly transition between genres. This is making her sets dynamic, exciting and full of surprises, with unexpected rhythms and textures that keep listeners guessing what she'll do next. In a genre that can often be stale and formulaic, Tamara is a refreshing change of pace, showing that there's still plenty of room for creativity in electronic music.
Sicovaja
Young Lyng
Young Lyng is one half of the Stuttgart-based student-initiated design-collective called »Studio Ugly«.
NO SPACE FOR SEXSIM, RACISM, HOMOPHOBIA, TRANSPHOBIA & VIOLENCE! HARRY KLEIN IS A SAFER SPACE FOR EVERYONE, PLEASE RESPECT THAT!
Awareness im Club bedeutet für uns:
Sei offen gegenüber deinen Mitmenschen.
Helfe, wenn dich jemand danach fragt.
Versuche dein Gegenüber zu verstehen.
Melde dich bei uns, wenn du dich unwohl fühlst.
Behandle deine Mitmenschen mit Respekt.
Frag nach, wenn etwas unklar ist.
Vertrauen ist die Basis für unser Miteinander.
Vermeide Worte, die du selbst nicht hören magst.
Einlassrecht vorbehalten.
26.11.2022 - Beginn 22:00

Ende: 27.11.2022 07:00

Kosten: € 10.00 VVK | € 13.00 Abendkasse

Adresse
Harry Klein
Sonnenstraße 8
80331 München
Deutschland