15.06.2022
Marry Klein Clubfestival w/ Anabel Arroyo, Alba Heidari, Alicea, Tanaya Twain, Janisha Jones, TPS Nostromo und Proximal
SuperGarryKlein x FOLD London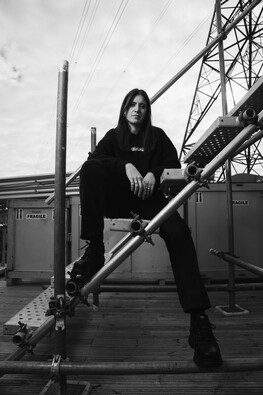 Playlist
Music SuperGarryKlein @ Marry Klein Clubfestival 2022
Show
Visuals
Das Garry Klein lädt wieder einmal zu seiner besonderen SuperGarryKlein-Veranstaltung, da am nächsten Tag Feiertag ist!
Künstler*innen
Alba Heidari
Fold London Dj Resident, and Decoding the void co-founder.
Growing up in Madrid, where she garnered her DJing experience, Alba Heidari has consistently sought to explore a range of different genres. With a comprehensive knowledge of drum n bass, breaks, hardcore, hardtek, electro, and even gothic industrial, she defined her technical prowess and discovered the raw industrial techno that pulls together her versatile sound.
Whether she is utilising vinyl or digital sources for her blistering DJ sets, Alba's uncanny mix of punishing and playful has made her a growing staple at parties in Spain and in London. She formed the collective "D.T.V" ( Decoding The Void) with frequent collaborator Manson X to further sharpen their skills and bring their and other artists' music to a broader audience.
Anabel Arroyo
Anabel Arroyo is fast becoming an in-demand name in dance music, holding a residency in FOLD and a reputation for intense, groovy sets that whip crowds into frienzies.
After honing her skills in Seville she moved to Madrid where she quickly made a name for herself, playing many parties alongside some of the biggest names in techno, whilst developing her trademark energetic style. Since arriving in London three years ago she has advanced it even further, with her own positive, relentless energy infecting crowds before the music even hits their ears. Anabel's movements reflect her music, with her playful, bouncy sets leaving crowds across the UK and Europe clinging onto every beat, whilst she takes note of all the emotions before her, enjoying every second.
Two years into her residency at FOLD, Anabel's sets are infamous for their sophisticated transitions and catchy, groove-infused sound that lingers in the minds of crowds long after the music has stopped. This sound is also heard in her productions, that have been released on vinyl and digital on LABURNŪM Records, Emphatic Rec and Fluctuat Records.
Alicea
Alicea ist eine Techno-DJ und Veranstalterin, die in München lebt und sich dort innerhalb kürzester Zeit einen Namen gemacht hat. Von groovy & bouncy Techno Tunes über Breakbeat und sphärischen Dub Techno bis hin zu düsterem, hypnotischen Techno hat sie ein großes Spektrum an Genres. Alicea ist zudem  Kuratorin und Bookerin des einmonatigen MARRY KLEIN Festivals 2022 im Harry Klein Club und setzt sich für mehr Diversität in der Clubkultur ein. 
Alicea is a Techno DJ who lives in Munich and has made a name for herself there in a very short time. From groovy & housy Techno tunes to Breakbeat and melodic Dub Techno to dark, hypnotic Techno, she has a wide range of genres that she combines to create her own interesting soundmix, always focusing on groove and dynamics. Her  track selection is characterized by spherical chords and analogue synth elements.
Alicea is the curator and booker of the month-long MARRY KLEIN Festival 2022 at Harry Klein Club and is an advocate for more diversity in club culture.
Tanaya Twain
Tanaya Twain is a Munich based DJ and part of the WUT collective. She has always been fascinated by techno music and discovered her passion for DJing in 2019 when she switched from being in the audience to the spot behind the decks. 
Her sound used to be influenced by many visits to Berlin. Now she loves playing her personal selection of deep and driving techno. 
Tanaya´s first public appearance was at the Marry Klein Festival a few years ago. It is therefore a special honor for her to be part of it again.
TPS Nostromo
Münchner VJ-Kollektiv TPS Nostromo – eine visuelle Bereicherung, die im nächsten Moment aus der Komfortzone ausbricht und ästhetische und gesellschaftliche Gewohnheiten hinterfragt. Agit-Prop meets Dada. Bilder zum Wohlfühlen, Aufschrecken, Abschalten. Let's dänce!
Munich based VJ collective TPS Nostromo –
a visual enrichment that breaks out of the comfort zone in the next moment and questions aesthetic and social habits. Agit-Prop meets Dada. Images to make you feel good, startle you, switch off. Let's have a good time!
Proximal
NO SPACE FOR SEXSIM, RACISM, HOMOPHOBIA, TRANSPHOBIA & VIOLENCE! HARRY KLEIN IS A SAFER SPACE FOR EVERYONE, PLEASE RESPECT THAT!
Sei offen gegenüber deinen Mitmenschen.

Helfe, wenn dich jemand danach fragt.

Versuche dein Gegenüber zu verstehen.

Melde dich bei uns, wenn du dich unwohl fühlst.

Behandle deine Mitmenschen mit Respekt.

Frag nach, wenn etwas unklar ist.

Vertrauen ist die Basis für unser Miteinander.

Vermeide Worte, die du selbst nicht hören magst.
15.06.2022 - Beginn 22:00

Ende: 16.06.2022 07:00

Kosten: VVK 10€ / Abendkasse 12€

Adresse
Harry Klein
Sonnenstraße 8
80331 München
Deutschland