16.07.2022
SuperGarryKlein mit Wax Wings, Liza Rivs, Alicea, Maxim von Terentieff, Dragshow & VJ RMO
SuperGarryKlein #csdmuenchen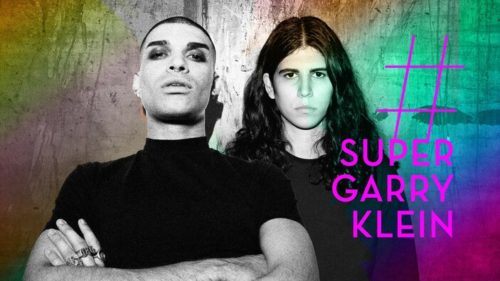 SuperGarryKlein
Playlist
Music
Show
Visuals
23.00 Uhr RMO (Harry Klein Visuals | Regensburg | he/him)
Happy Pride Munich! 
Gladly we are back to a kind of normality and we will be able to celebrate Munich Pride almost like the years prior the pandemic. This event is part of the Munich Pride Week. Let us be queer, open minded, visible, peaceful and keep the gender equality.
SuperGarryKlein, the safer space for queer people in Munich!
Music: Techno & Pop. 
Künstler*innen
Liza Rivs
Liza Rivs is a Georgian DJ and producer. Born in post soviet Georgia and raised in Paris, France. She has appeared on the local scene since 2016. After a year she took part at the first Boiler Room in Georgia at Cafe Gallery. Since then she has played in several big clubs in Paris and Tbilisi such as KHIDI where she started her residency. Her music is characterized by a variety of musical selections from techno to electro and industrial sounds.
Wax Wings
Like the Greek legend Icarus, Wax Wings is soaring towards greatness. Taking after his Brazilian father, a musician and British mother, an artist, Wax is a man of many talents. From his visual creations in paint, graffiti and photography to his fashion, make-up artistry and of course music production, his abilities span endless forms of expression.
A fan of bands like Nine Inch Nails, Korn and Deftones, Wax Wings grew up with a lot of dark and alternative influences.
Alicea
Alicea ist eine Techno DJ, die in München lebt und sich dort innerhalb kürzester Zeit einen Namen gemacht hat. Von groovy & bouncy Techno Tunes über House und melodischem Dub Techno bis hin zu düsterem, hypnotischen Techno hat sie ein großes Spektrum an Genres, die sie zu ihrer eigenen Klangwelt kombiniert, wobei sie stets auf Groove und Dynamik setzt. 
Maxim von Terentieff
Munich's DJ Legend since 20 years. Former Resident of Ultraschall, Registratur, Harry Klein and Rote Sonne.The Last Action Hero
Janisha Jones
Pasta Parisa
RMO
 RMO ist schon viele Jahre Resident im Harry Klein. In seinen Club-Visuals kombiniert er Bildmaterial unterschiedlichsten Ursprungs zu einer Art Mixed-Media-Collage, die von der Musik in Bewegung versetzt wird und sich so nahtlos in die sonstigen Sinneseindrücke im Raum integriert.
NO SPACE FOR SEXSIM, RACISM, HOMOPHOBIA, TRANSPHOBIA & VIOLENCE! HARRY KLEIN IS A SAFER SPACE FOR EVERYONE, PLEASE RESPECT THAT!
Sei offen gegenüber deinen Mitmenschen.

Helfe, wenn dich jemand danach fragt.

Versuche dein Gegenüber zu verstehen.

Melde dich bei uns, wenn du dich unwohl fühlst.

Behandle deine Mitmenschen mit Respekt.

Frag nach, wenn etwas unklar ist.

Vertrauen ist die Basis für unser Miteinander.

Vermeide Worte, die du selbst nicht hören magst.
16.07.2022 - Beginn 22:00

Ende: 17.07.2022 07:00

Kosten: € 10.00 VVK | € 12.00 Abendkasse

Adresse
Harry Klein
Sonnenstraße 8
80331 München
Deutschland