01.07.2022
Harry Klein X WUT w/ Bonnie Spacey, Nadjia, Lily Lillemor, Bonnie Spacey, Laau Pama &TPS Nostromo
WUT w/ Bonnie Spacey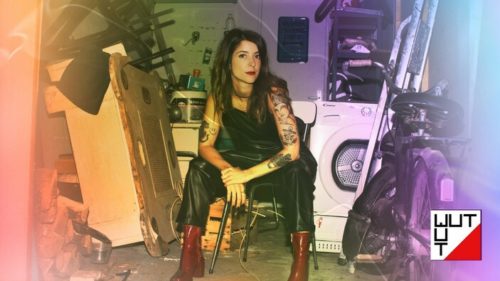 Harry Klein
Playlist
Visuals
Künstler*innen
Bonnie Spacey
At the crossroads between rock, techno and dark disco, French and Marseille based Dj/Producer
Bonnie Spacey has been rocking the dance floors since more than 7 years.
Inspired by the musical curiosity of her guitarist father, who introduced her to Jimmy Hendrix and all the legends of rock, she perfected her musical culture by practicing guitar and the piano for years.
It is at the turn of a live performance of Miss Kittin and The Hacker at the beginning of the millenium,
that she discovers electronic music : it was love at first sight.
For 10 years, she skims the dancefloors of many European clubs and festivals and it is finally in 2015 that she gets behind the decks for the first time. Since then, she has been performing all over the world with her infamous, catchy and powerful sound, sharing the stage with legends such as Richie Hawtin, Sven Väth, Kink, Curses, David Vunk, Zombies In Miami among many others…
A few years laters, she finally starts producing music, directly making a first hit with the single « Don't »in 2019.
Since then, she's been accumulating furious releases on labels such as Slow Motion, Jane Musica, SlowCycle and more and mostly on her own label Critical Monday : an independent electronic music label somewhere between rock and techno, but definitely club oriented, that she founded in 2019.
Lily Lillemor
Lily zieht ihr Publikum in ihren Bann, so dass es sich in den mitreißenden Beats verlieren kann. Ihr feines Gespür für das Zusammenspiel von Melodien und Rhythmen schafft es, die Menge an den Dancefloor zu fesseln.
Seit 2017 mischt sie Dark Disco, Deep House, Synth Wave und EBM. Dabei ist sie technikaffin und fordert ihr Publikum mit überraschenden Wendungen in ihrem Set zur persönlichen Weiterentwicklung heraus. Jedes Set ist ein kleiner Bildungsurlaub auf der Tanzfläche.
Nadjia
Wonderland meets post-Orient! Mit ihrem Sound nimmt sie dich mit auf eine Reise durch 
mystische und melodische Beats, die dich schnell in eine Traumwelt verfallen lassen. Die 
Reise geht immer wieder Richtung klassisch orientalische Klänge. Ob hier ihre Wurzeln durchbrechen oder einfach nur Wanderlust erklingt? Vermutlich beides. Auf ein bestimmtes Genre lässt sie sich nicht festnageln, nur Melodie muss.
Laau Pama
Seit 2019 ist Laau Pama als DJ auf Partys in Ulm, München, Heidelberg und Stuttgart unterwegs. Beim auflegen stehe ich auf analogen Techno und düstere 80er Discobeats. Ihr DJ Kollektiv Counnterterraism supportet DJ's und Produzenten aus den Genres Dark Disco/Indie Dance/Italo Disco. Es gibt eine SoundCloud Mix Serie in der jede Woche neue Set's verschiedener Künstler hochgeladen werden und seit diesem Jahr gibt es auch eine Veranstaltungsreihe. Laau Pama spielt für euch eine Mischung aus Dark Disco und Indie Dance. Enjoy the dark ride.
TPS Nostromo
Münchner VJ-Kollektiv TPS Nostromo – eine visuelle Bereicherung, die im nächsten Moment aus der Komfortzone ausbricht und ästhetische und gesellschaftliche Gewohnheiten hinterfragt. Agit-Prop meets Dada. Bilder zum Wohlfühlen, Aufschrecken, Abschalten. Let's dänce!
NO SPACE FOR SEXSIM, RACISM, HOMOPHOBIA, TRANSPHOBIA & VIOLENCE! HARRY KLEIN IS A SAFER SPACE FOR EVERYONE, PLEASE RESPECT THAT!
Sei offen gegenüber deinen Mitmenschen.

Helfe, wenn dich jemand danach fragt.

Versuche dein Gegenüber zu verstehen.

Melde dich bei uns, wenn du dich unwohl fühlst.

Behandle deine Mitmenschen mit Respekt.

Frag nach, wenn etwas unklar ist.

Vertrauen ist die Basis für unser Miteinander.

Vermeide Worte, die du selbst nicht hören magst.
Achtung! Ab und zu machen wir Videoaufnahmen im Harry Klein. Diese dienen nicht dazu Menschen zu kontrollieren, sondern es geht darum Künstler*innen aufzunehmen und dies danach zu veröffentlichen. Dies gilt vor allem für den Bereich des DJ & VJ Pult und somit auch für die vordere Reihe. Klicke hier um ein Beispiel zu sehen.
01.07.2022 - Beginn 22:00

Ende: 02.07.2022 07:00

Kosten: € 10.00 VVK | € 12.00 Abendkasse

Adresse
Harry Klein
Sonnenstraße 8
80331 München
Deutschland